We knew Texas would have a good chance to attack a vulnerable (and somehow overrated) Oklahoma defense, and also that they'd have their hands full keeping an explosive Sooner offense at check. I'm not sure if anyone foresaw that outcome though, in which the Longhorns were in position to start shoveling dirt on the Sooners before they emerged from the ground like John C Reilly to re-engage the Horns.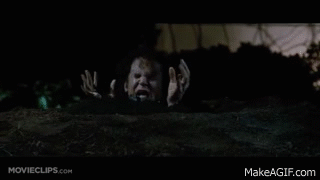 The four minute offense that has served Texas so well this season almost let them down spectacularly in this game, but then they put it away with a strong finishing drive that set up Cameron Dicker's 40-yard game winner. I doubt any Texas fan felt ultra confident at the end of that game but for everything to rest on Oklahoma's ability to stop the Longhorn offense was a scenario that Texas would have accepted before the game and that Sooners would have run screaming away from.

Quick thought no. 1: Always gotta play it close…

Didn't love the blitz call that allowed that Kyler Murray 67-7ard TD scramble. Beyond that the Longhorns played the game much like Iowa State, dropping back a lot and daring Murray to beat them by running around. Beyond that scramble, he finished with 10 carries for 25 yards that included a few sacks, some of which were classic "boom or bust" plays of the sort that his small frame but lightning speed tends to create.
Additionally, the frequent holding calls on the Texas OL in the fourth quarter were brutal and quite possibly cost Texas the blowout victory they had been building towards (and nearly the game itself). The Sooners had life breathed into their defense by the explosive plays that the OU offense was generating in that quarter…only for it to be deflated when Sam Ehlinger started throwing towards Collin Johnson again.
The narrative in Norman after this game will unquestionably be centered around when and how the Sooners should part ways with Mike Stoops, who's been an ace up Texas' sleeve for the last several years of this game.
Lincoln Riley did a good job of keeping some of his play designs stored up, some of their calls down the stretch were quite clever such as the TD to Lee Morris. Oklahoma scored on a bubble route off zone-read from Murray, a fake bubble screen that allowed Ceedee Lamb to run uncovered into the end zone, a switch/wheel route to Marquise Brown when P.J. Locke was caught checking the sideline, and then the late score to Morris that came on another sucker screen play.
The Sooners are all about clever play designs that get their speedy skill players open in space and that's actually been true dating back well before Lincoln Riley came to even the early Bob Stoops days. Usually if you survive the early calls they run out and then you have a chance to out-execute them down the stretch if you aren't already down by 20+, but Riley had some in the tank for this contest.
Anyways, a slightly better Texas team just buries the Sooners but no one is going to be crying about mistakes in a big win.
Quick thought no. 2: Sam Ehlinger > Kyler Murray

Kyler made a few big plays in the passing game and of course the one fantastic scramble, but most of his yardage came off executing Riley's designs to set up wide open receivers that don't lack for athleticism. At times Murray was clearly rattled, missing sideline throws high, committing two bad turnovers, and going down to a DB that was laying on the ground and grabbed his leg.
Meanwhile, Ehlinger was ascendant. 24-35 with 314 yards at 9 ypa. Two TD passes, ZERO INTs. Then he added another 18 carries for 84 yards at 4.7 ypc (after removing sack yardage from the one sack) with three rushing TDs and five short-yardage conversions on the ground. Add in his reception and you're over 400 yards of offense and five TDs. On the day Texas went 6-14 on third down (and 2-2 on 4th) while the Sooners were 3-8 (and 1-1).
Ehlinger was composed, took care of the football, made the plays that were there, and took delight in running through a notoriously soft defense. The Longhorns knew where to get after the Sooners and executed the plan at a high level save for the horrible 4th quarter drives thwarted by holding calls combined with a desire to play it safe with a big lead. He hit several big throws on third down and a few big shots down the field that were needed to break open the game.
The Sooners regularly seemed discombobulated when Riley's play designs didn't line things up for them on a silver platter, if not for their team speed on offense this contest still would have been the blowout it was shaping into.
You want to see a cleaner fourth quarter but you take the team that can execute in crunch time and knows how to take care of the ball and build a winning drive.
"…I'm looking forward to the next three years."
That was a line from Ehlinger in the post-game presser after the very narrow 2017 defeat. You could tell he'd just put a mammoth effort into the game and couldn't be more frustrated with the outcome and you could sense how the frustration was going to be channeled. From that moment on I've become suspicious that he'll graduate with a winning record against the Sooners.
Quick thought 3: Collin Johnson and Lil'Jordan Humphrey came to eat

You knew that Texas was going to bring a lot of fight into this game when, on their initial drive, Collin Johnson had his altercation with the freshman DB for OU (Brendan Radley-Hiles) who was supposed to have brought some swagger and physicality to the Sooner secondary. Bookie (Radley-Hiles) knocked off Johnson's helmet and in return was escorted to the sideline by the bigger Collin and had his own helmet knocked off.
Collin Johnson came to eat ridiculous fried food and beast Sooner DBs, and he saved the meal for after the game. His six catches for 81 yards and a score doesn't really capture the domination he exhibited out on the sideline. On multiple short-yardage plays his slants on the outside were as close to automatic as the QB stretch play on short-yardage.
Meanwhile Lil'Jordan Humphrey was running wild in the seams, particularly from the boundary where they regularly aligned him with Collin Johnson to overload the Sooners' weak side in coverage. Nine receptions for 133 yards and a score along with a passing TD on an inspired wildcat jump pass play to end the first drive.
He's clearly the receiver Ehlinger feels most comfortable with in go-to situations, particularly on option routes in the seams where Humphrey is nearly unguardable (and likely making himself some money). Like I've noted since before the year, he's essentially an extra-quick flex TE and they've been using him accordingly.
Beyond that, Texas also did a lot of damage in this game throwing bubble screens on RPOs where those guys (as well as Devin Duvernay and Andrew Beck) were able to punish the undersized Sooner secondary with blocks. LJH and Johnson against the Sooner DBs was a particular matchup in this game that Texas needed to exploit and they did so in a major way.
Quick thought no. 4: Texas won that game on 3rd and 20 and 3rd and 21

On the former play Ehlinger hit Andrew Beck over the middle on a seam route in which he was tackled just a yard short of the first. Texas hurried to the line to run QB stretch, the Sooners called a timeout to get into a play-call, and then they unexpectedly picked up 4th and 1 throwing a RB swing pass off QB power. That was early in the game but it was a crushing blow for the Sooners who were struggling to get into a rhythm on offense and for an OU defense that needed confidence.
Later in the game they did it again, throwing a tunnel screen to Lil'Jordan Humphrey that resulted in half the Texas OL basically picking Humphrey up and carrying him to within a yard of the first down marker. Again they hurried to the line in a formation to call QB stretch, again OU blew a timeout, and then this time Texas ran straight QB power with no swing pass to easily pick up the first down.
Granted the final drive to kick the FG was crucial, and it should have been needless, but I think the Sooners lost the game on those two plays. If you can't get off the field on third and a mile you're cooked, and if you have a FB playing QB and can set up multiple short-yardage scenarios in crucial game situations, you're in good shape.
Quick thought no. 5: OU sucks!
They are who we thought they were. They're soft on the back end and undisciplined up front on defense, prone to creating vicious cycles in which either play off the other and allow teams to pour points on. Their offense is explosive and well coordinated but rarely faces adversity, feasts on mistakes, and aren't as physical or mentally tough as their reputation suggests.
Kyler Murray has always played on the stacked team save for a few games in College Station that went notably awry. His turnovers were bad and he's contact shy in the pocket, prone to trying to scramble for time or options and seemingly incapable of stepping up in the pocket. He reminds me of Jason White. Their backs ran hard but the Texas DL often wrecked things up front with penetration.
It's entirely likely that these two teams will meet again in the other stadium in the Metroplex at the end of the season. The Longhorns should be totally unafraid of that matchup, they are the tougher team and better at executing in key situations without needing their HC to get them into the perfect play. What's more, Texas can play a lot better on defense than they showed in that game and will be better on that side of the ball at the end of the year as the young DBs that were all over the field today continue to grow and learn on the job.
The march to a Big 12 title and the cutting of Breckyn Hager's locks continues.
In the meantime…time to redeem this GIF, Texas is back.