Texas is over .500 for the first time since 2013 and just won their first bowl game since 2012. There have been only four winning seasons this decade for Texas out of seven seasons total and only three bowl victories. Savor it Texas fans, but get used to the taste because I think we're going to see a lot more wins coming out of this team moving forward.
Quick thought no. 1: Drew Lock is silenced

The star Tiger QB threw 34 passes for 269 yards with one TD, one INT, and one fumble at the end of the game. He had the one 79-yard bomb early in the third quarter, without which his numbers plummet to 33 passes for 190 yards at 5.8 yards per attempt, otherwise he did virtually nothing. I was fairly impressed overall by how he probed and attacked the Texas dime defense, avoided pressure, and placed his throws. However, he was totally overmatched by poor field position, good pass-rush, and the multiple and conservative dime coverages that Todd Orlando threw at him all night long.
The Georgia defense being talked up right now as a potential solution to Oklahoma didn't fare this well against Lock and they weren't missing some of their key players.
The Missouri offense was incredibly vertically oriented this season with Lock throwing over 40 touchdown passes but the Tigers couldn't find targets deep against Texas tonight and Lock's game concluded watching Tom Herman and Sam Ehlinger riling up the Texas sideline with mocking impersonations of his celebratory taunt following the one 79-yard bomb.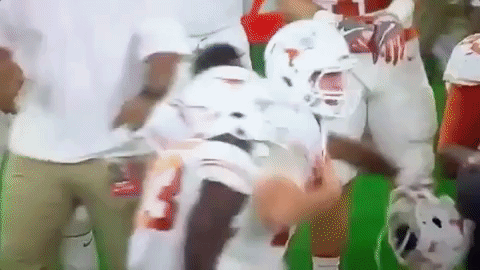 As a side note, you can tell here that Ehlinger is already close to assuming command of this team. He was the QB they entrusted in the key moments of the game, he threw the block that sprung the clinching TD, and then he fired up the sideline and got even Herman doing this little dance on the sideline.
Quick thought no. 2: Texas stuffed the run in dime without Malik Jefferson or DeShon Elliott.

This isn't really a thought, just a remarkable fact with obvious consequences for the Big 12 next season. They did have Poona Ford tonight and won't have him next year, but Texas' play against Mizzou's 11 personnel run game was still very impressive and surely ominous for teams around the league heading into next season.
Missouri finished the game with 34 run for 121 yards at 3.6 ypc. Their longest run was a 17-yarder that came in the first half and after 23 carries netted 92 yards at four yards a carry in the first half, they largely abandoned it in the second half in favor of more screens and dropback passes.
The play of the Texas 4i-techniques was amazing this season and it should continue next year with Breckyn Hager, Malcolm Roach, and Charles Omenihu all returning. The sensational play of Poona Ford in the middle may be harder to replace, he was probably the best defensive player in the conference this last year and Texas was still plenty good without Malik Jefferson in large part because Ford had been keeping Jefferson pretty clean all year. Malik had a fantastic season, but Ford was the engine of Texas' dime run defense success. Replacing him this offseason will be the biggest priority after…
Quick thought no. 3: The offense still needs major work

Texas did run a pretty effective four minute offense…conspicuously when Herman was barking into the headset regularly while holding a folder of papers in his hand that were nearly strewn across the field when Ehlinger escorted Armanti Foreman into the end zone on a reverse.
The Longhorns came out firing with some varied QB option run schemes, some of which we hadn't seen this season before tonight, and clever play-action that hurt Missouri early. Then they turtled up and ran some of the plays that had yielded rather mediocre results throughout the season, often finding that the peripheral plays like counter and outside zone were more boom than bust while inside zone probably didn't get the action it deserved until the good four minute offense drive that sealed the game.
Shane Buechele came apart once the script dried up and struggled to make good behind an OL that was facing their betters in the Missouri DL. Sam Ehlinger was much more effective overall, though not incendiary, hitting 11-15 for 112 at 7.5 ypa where Buechele had gone 6-14 for 55 at 3.9 per throw. Both of them avoided turnovers and both of them missed a few throws that were there to be had.
Some of the issues with this offense were simply a matter of inconsistent execution. One minute the OL is blowing a protection or getting beat, the next the QB is missing a throw due to weak footwork, then the WR is failing to get separation. Texas' inability to nail down the execution on some of the base offensive schemes was understandable but still a black stain on the season. It'll be interesting to see what Herman's evaluation of the offensive staff performance will prove to be.
Quick thought no. 4: This was an impressive win, overall
Now I had Texas pulling out the win here for the exact reasons that bore out in this game. Texas' dime defense is not a strategy that Drew Lock has ever had to deal with before and it's very difficult to reprogram yourself and your offense to deal with it, even with bowl practices, and especially if your OC has left to take a job somewhere else.
Nevertheless, Missouri was a dangerous team (that looks potentially great next year with Terry Beckner back, Jordan Elliott eligible, and Drew Lock back if he returns) and Texas was missing a disturbingly large number of important players from both sides of the ball.
Finishing 7-6 (and 5-4 in conference play) is a meaningful victory for the program and doing it without some of the NFL-bound defenders against a bitter SEC team that had been feasting off fallen giants is also meaningful. That win will likely buy Texas some good ink heading into the offseason, calm some nerves about losing Malik Jefferson and co, and hopefully fire up the locker room that ultimately their hard work this past season actually yielded tangible fruit.
Quick thought no 5: Michael Dickson…

When Dickson made that punt in the 3rd quarter where he sidestepped a rusher then kicked a line drive that bounced at the one and spun back into the arms of a Longhorn…I was about ready to start a petition to retire his jersey number. I've never seen a punter dominate football games like this before.
For the game he had 11 kicks for 452 yards. 10 of those 11 were downed inside the 20, another six were inside the 10, four of them were inside the five yard line. Missouri never really had a chance in this game because they were staring at the length of the field all night long
Texas has secured another well regarded Aussie kicker and hopefully won't go over a cliff in terms of punting production but man….Dickson was special. He'll be missed, Texas doesn't finish over .500 without him.
This was a nice finish for the first season of the Tom Herman Texas Longhorn era. I think subsequent seasons will include more highs and fewer lows.