"There are 119 Division 1A teams playing college football. There are 110 p****** playing free safety. I'm not worried about safeties." -Herb Hand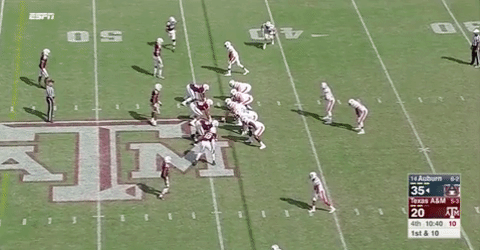 Back in the day the spread offense used to be more of a system for guys that wanted to throw the ball all over the field. Even the singleback guys that were adopting the spread to run the ball were guys in love with bringing pro-style, outside zone-based structures to the college game. Guys like Greg Davis.
Even Gus Malzahn apparently used to be a guy that wanted to throw the ball around the field…until he worked with Herb Hand at Tulsa. It was there, amongst other places, that the "smashmouth spread" as it exists today really began to take form. Hand and Malzahn began to configure the Wing-T inspired Malzahn run game that would allow the offense to attack the middle of the defense with a physical, downhill running game in order for the various screens, perimeter sweeps, and play-action throws to really light up opponents for big gains.
Hand and Malzahn were reunited two years ago at Auburn and made great use of a big, veteran OL along with the sort of H-back/fullback that they love (Chandler Cox) to churn out a 1k-yard rusher (Kamryn Pettway) and a 800-yard rusher (Kerryon Johnson).
The run game is VERY similar to what Herman oversaw this past year at Texas. At Auburn they were generally much more multiple and tricky with how they'd attack opponents off the base runs than was Texas this past year but it's hard to say how much of that was due to the Longhorns' lack of experience and continuity across the offense. They're also more consistent about doing little motions and tricks to try and clear up the picture on where to find angles or advantages to exploit.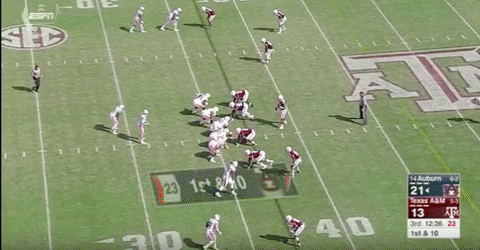 If there is an increase in creativity next season it'll likely be due to adding features like this to confuse the defense and help out the QB.
Also, like with Herman's attack, the H-back is an integral component to the entire enterprise. The run game centers around inside zone, power/counter, and then the buck sweep play to work the edge and all of them tend to involve the H-back to control for the sixth man in the box with the front. They even ran some Iso last year and will always motion that player around to block on the perimeter or to run "distracto routes" to hold DBs while superior athletes worked with favorable matchups.
Chandler Cox was good for about a catch a game last year and I'm sure that number goes up if we're talking about someone like Cade Brewer but the blocking is still the main emphasis as this is a run-centric approach.
Hand has worked with running QBs before and knows how to coordinate the run game to utilize TEs or to work from more spread sets but I'm confident he prefers to have a nasty blocking TE or two to work around.
The goal for Hand is to build an OL that can command the middle of the field with physical blocking and dictate to the defense so that the passing game is always working at advantage.
The 2017 Herb Hand OL was a work in progress all season along. Thanks mostly to Cox's work with SEC 1st team RG Braden Smith and swiss-army knife Austin Golson (who played every position but RG and ended the year at LT) Auburn was very effective all year at running the football.
Their pass protection was not so great and Jarrett Stidham had a dismal sack rate of 8.6% on the year. That said, their passing game was also pretty darn effective with Stidham throwing for 7.3 ypa even after adjusting for sack yardage as a component of the pass game rather than the rushing attack.
When you take lots of deep shots off play-action then you can get into some "boom or bust" situations in the passing game, which is occasionally what happened at Auburn last year…but they also just weren't that great at tackle and Stidham had some bad habits as well.
In terms of recruiting and developing OL, Hand has a nice reputation for using his Twitter and his cooking effectively, sometimes in conjunction. He's also fond of swapping his OL around all offseason and cross-training them at multiple positions in order to have flexibility in getting the best five on the field. That paid off this past year when they were able to use Austin Golson all over the line and would likely be useful again with Texas swingman Elijah Rodriguez.
Herb Hand is basically the "Joe Wickline" of the smashmouth spread, a longstanding and well established OL coach within this school of offense that has a great rep as a recruiter and technician but also a knack for coordination and higher level thinking. Also, unlike Wickline when he arrived at Texas, he's not as deep into his career and still has a lot of hunger. Particularly since he wasn't with Malzahn for the 2010 championship ring at Auburn.
This is a hire that fits within the greater Herman concept and philosophy but who comes from outside of his more immediate network (I'm pretty sure they've met and talked offense before though) and brings fresh eyes, new tactics, and more skins on the wall in terms of implementing the broader strategy of making Texas into a proper smashmouth spread offense.