Before the 2005 Rose Bowl, Texas had never played either Michigan or Ohio State. Despite the Longhorns' claim as one of the premier programs in college football history, they'd never played either of those equally storied programs because of the game's regional eccentricities. That changed in the 2005 Rose Bowl.
Mack Brown lobbied for Texas' inclusion in the BCS and the only stain on their resume was a 12-0 shutout defeat against Stoops' Oklahoma Sooners. They got the nod over the one-loss Aaron Rodgers Cal Bears. There was some serious anger and resentment out there towards Mack's politicking and the inclusion of Texas in the ancient Big 10/Pac 12 scuffle that used to be the Rose Bowl's annual tradition.
It so happened that Texas also had a date with Ohio State in Columbus scheduled for week two of the 2005 season, so with their inclusion into the Rose Bowl the Longhorns ended up drawing both schools in the same calendar year with an offseason and then a single matchup against Louisiana Lafayette in between.
If you go back and watch those games it's obvious that Texas needed major help from a very strong defense in 2004 and then an elite crew in 2005. However, these will always primarily be remembered the games in which Vince Young and the spread offense conquered old school football represented by two of the all-time old school programs. The Texas legend put up 718 total yards and scored seven total touchdowns in what are arguably the two most famous stadiums in Big 10 football lore.
Outscoring the Trojans will go down as Young's greatest feat but the #10 who accomplished that emerged during this two-game stretch.
Beating the 2004 Michigan Wolverines
This Michigan defense was considerably better than you might recall. The Lloyd Carr era was still in full swing and the Wolverines had just won their second consecutive Big 10 title (split with Iowa that season). They had a pair of All-Americans in strong safety Ernest Shaznor (6-4, 229 pound junior) and cornerback Marlin Jackson (6-1, 196 pound senior). They also had a pair of future All-Americans in cornerback Leon Hall (5-11, 191 pound sophomore) and outside linebacker LaMarr Woodley (6-2, 263 pound sophomore).
Most importantly, they had a defensive front that included All-B1G, 6-4, 333 pound nose tackle Gabe Watson and All-B1G DE Pierre Woods beside Woodley. This was a big, physical defense that had held every offense on the schedule below 30 save for Ohio State.
The Michigan gameplan was pretty straightforward, they were going to contain VY on Texas' zone-read plays and make Texas beat them running the ball traditionally against their front. When they had an overhang like a CB or their Sam LB on the edge their DE would cautiously crash after the RB but otherwise he was staying put to prevent Vince from getting loose on the edge.
It actually worked pretty well. The 2004 Texas OL wasn't yet the monster unit that we tend to remember from these times and Texas got a ton of mileage that season out of the fact that the zone-read play gave them a numbers advantage on opponents for the zone handoffs to senior Cedric Benson. But Michigan invited Texas to beat them by handing off to Benson into their front:
You can see the problem plainly here. The Sam LB forces the edge against the TE block, the DE stays home to force the handoff, and then Texas can't block Watson and Woodley (the DE) is able to make the tackle.
Benson ran the ball 23 times for 70 yards in this game at just three yards per carry. The Wolverine front was too big and physical for the Texas OL to handle. At this time the Longhorn OL went:
LT: Jonathan Scott, RS sophomore.
LG: Kasey Studdard: RS freshman.
C: Jason Glynn: RS junior.
RG: Will Allen: RS junior.
RT: Justin Blalock: RS sophomore.
Lyle Sendlein hadn't cracked the starting lineup yet (he would in the offseason) and the bookend tackles and Studdard were still all young pups. They weren't up for a grind it out battle with Michigan…but Texas still ended up with 264 rushing yards and four rushing touchdowns, because they had Vince Young.
Michigan had a real problem trying to handle Texas' offense and VY's speed in particular with their base 4-3 defense. On standard run plays like the zone read or a QB GT counter play that the Longhorns would run for Vince, it was straightforward enough for Michigan to play their fits and keep the QB contained. The draw, scramble, and rollout game though completely devastated their structures.
Michigan had three plays in this game where they called fire zone blitzes that would bring a LB and drop big Shaznor down to replace him and cover the TE. Texas had a QB draw called on one of these plays and VY scrambled on the other two…all three went very poorly for Michigan.
The first instance was a third and 16 play that resulted in a 20 yard scamper by VY out to midfield…that was the most positive outcome. The second incident was unlucky enough to be facing a QB draw and Shaznor was blocked by TE David Thomas when he was expecting to be covering him, so VY ran by him (and the deep safety) for a 20 yard TD. The final occurrence was on a third and nine play where Vince won the sideline and turned on the jets for a 60-yard TD run.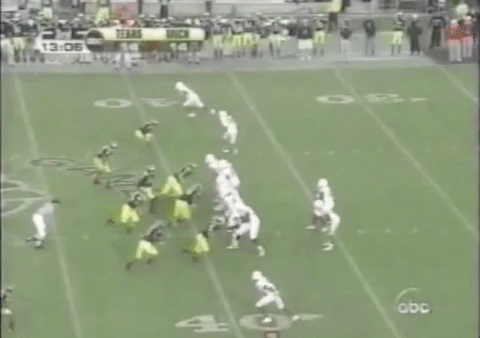 Three plays where Michigan brought a blitz that didn't contain Vince and the result was 104 rushing yards and two touchdowns. You can see here how helpless All-American safety Shaznor (#25) and the other DBs and LBs were trying to track Young in the open field. There just wasn't enough speed on the field for Michigan to handle these disaster scenarios.
The other problem Michigan had came when VY was executing more standard, under center offense rolling out to the flat with one of Bo Scaife (TE), David Thomas (TE), or Will Matthews (FB) running lateral with him. Vince Young completed six of nine attempts on third down, mostly on rollouts like this one…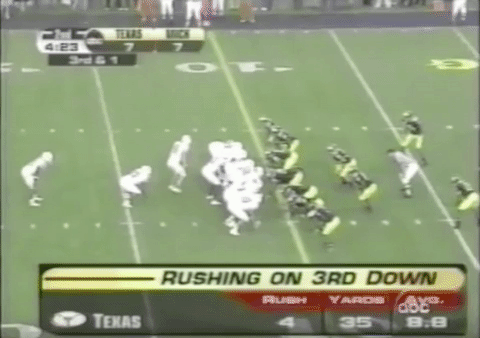 …for 54 yards at six yards per attempt with a TD. He also converted four more third downs by running while picking up 96 rushing yards and scoring twice. So in this game when Texas was leaning on Young to run or pass on third down, they converted 10-13 attempts for 150 yards and three touchdowns. When Young was able to get into space the Wolverines couldn't really handle him and the cost of keeping him from getting loose was generally to concede easy tosses to Texas' TEs and FB.
At 6-5, 230 with 4.48 speed and the ability to make darting cuts in short areas before pulling away with shocking speed and force….Young was a real problem for everyone. Keeping him corralled was of the utmost importance because he could score from anywhere on the field but the cost of doing so was generally too high a price. They could stop up Ced Benson and keep VY in the pocket but they couldn't do so and also blitz an extra man or keep the TEs covered up. Thomas and Scaife combined for nine catches, 122 yards, and a score. If not for Braylon Edwards beasting the Texas secondary and Steve Breaston returning every kick to midfield this game would have been a blowout. Instead, Texas squeaked by because they held the ball last.
The Ohio State Buckeyes
The Buckeyes had one big edge over their rivals in facing Vince Young and the Longhorns, beyond the graduation of Cedric Benson. That was their outside linebacker tandem of A.J. Hawk and Bobby Carpenter with strong safety Donte Whitner in support. Here's how these three measured at the following NFL combine:
Hawk: 6-1, 248 pounds, 4.59 40-yard dash, 3.96 shuttle, 40" vertical.
Carpenter: 6-2, 249 pounds, 4.66 40-yard dash, 4.31 shuttle, 22.5" vertical.
Whitner: 5-10, 208 pounds. 4.4 40-yard dash, 40" vertical.
We're talking about a linebacker duo with prototypical size and physicality for the position but then also the speed and lateral quickness of DBs backed by a safety who's faster than most cornerbacks. Hawk and Whitner were All-Americans that year and Carpenter was a second team All-B1G nod. They were coordinated by longtime Jim Tressell assistant Jim Heacock, who incidentally is the older brother of Iowa State DC Jon Heacock that has led the way in innovating the dime defenses that were a big story in the 2017 season.
The big difference in the Longhorns this year was that Texas was surrounding VY with other explosive playmakers rather than bigger guys like Matthews, Scaife, and Benson. Texas spent the vast majority of the game against Ohio State in 11 personnel with David Thomas, Brian Carter, and Limas Sweed on the field with a rotating cast of slot WR Billy Pittman, RB/WR Ramonce Taylor, and then RBs Selvin Young and Jamaal Charles. The upshot of this move was that Texas was surrounding one of the most explosive playmakers in college football history with other explosive playmakers.
Ohio State's goal for making sure that after the game Vince Young was no longer a Heisman candidate, as Carpenter put it, was to be sure to bottle up the run game. It took them one early snafu before they figured out that this was a more serious business than they'd encountered before…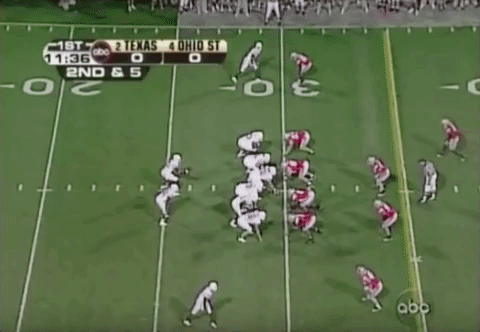 …that DE thought he'd played his assignment and contained the ball and then he was watching from behind while VY ran by an All-American safety for a cool 32-yard gain. After that run, they kept Young under much tighter wraps and he never broke free again.
The Buckeyes had a few more calls and tricks up their sleeves though for handling Young than did the Wolverines, but they still depended on playing Whitner and the CBs on an island more often than not in order to keep their dreaded LBs within striking distance of Young. They were able to limit the damage Young could do on scrambles and held him to 76 yards on 20 carries, but they couldn't hold up against David Thomas and Billy Pittman executing Greg Davis two-man games on isolated DBs.
This is a whip-dig combination that Davis made extensive use of in his time at Texas that worked off the threat of Texas' athletic TEs to get slot receivers open down the field. The middle LB (#51 Anthony Schlegel) is scrambling to get out on TE David Thomas after the run fake and A.J. Hawk (#47) is out wide and leaves Pittman to pick up Thomas entering the flat. That leaves Whitner isolated in space on Billy Pittman running a dig across the middle. What's more, the opposite safety is down in the box to help control the zone-read game and free up Carpenter (#42) to attack between the tackles.
Texas hit them with this same combo later in the game: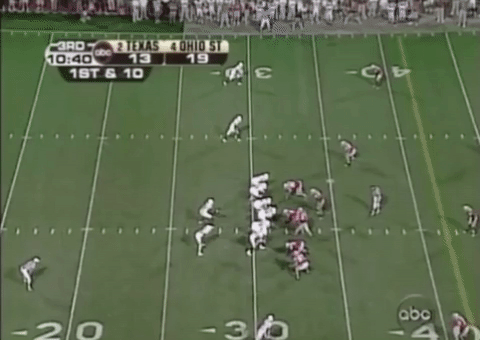 This time the Buckeyes were in a 3-down set they mixed in cross-fire inside-backer blitzes that did their share of damage in this game. The problem this time was that it was Schlegel that came free rather than Hawk or Carpenter, VY shrugs him off like he's nothing and then the deep safety can't pick up Pittman.
Every Texas scoring drive was punctuated by an explosive play of 20-yards or more. Three of those came on deep tosses to Pittman, another on a big pass to Jamaal Charles on a checkdown (the Buckeye LBs lost him in the flats a number of times for understandable reasons), and then finally the game clincher to Limas Sweed: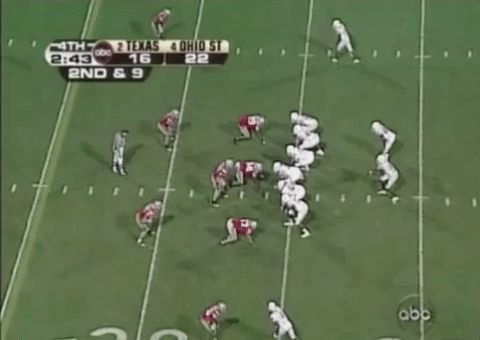 This was a four-verticals concept that Texas had mixed in some during the game and then came back to for a big play here. Ohio State is playing a 3-3-5 set with a safety subbed in for a DT and then Whitner down over the slot and Hawk hanging in the box to spy on VY. With Hawk spying him, the scramble game was virtually non-existence, but there was still the pocket passing game.
Ohio State's safety wasn't beaten here by the threat of VY's scrambling though but instead by the threat of David Thomas running over into his seam. He hung around to deny that route and then when VY turned and fired to Sweed he couldn't get there in time, despite Young staring down the Sweed route for a moment before delivering the ball late but in a good spot. It's hard to overstate how much more deadly Vince Young was in both 04 and 05 due to having a weapon like David Thomas working on conflicted LBs and Ss in the middle of the field.
As his NFL career made abundantly clear, Young was never an amazing pocket passer. The problem for college defenses was that his running ability was so tremendous that any degree of competence in throwing accurate balls to the Texas skill talent made the Longhorns indefensible.
This time instead of winning with efficiency and chain-moving, Texas won with big plays spreading the ball around to speedy athletes in space. He was fully weaponized in the spread offense now and surrounded by a stronger, more veteran OL along with an explosive cast of receivers and backs. Ohio State made a game effort and forced three Texas turnovers, two off INTs when Young made dumb decisions after being surprised to find himself corralled by speedy, spying LBs, but the Texas D blunted the damage and forced field goals. Then Young got the passing game going late and that was all she wrote.
After Young had felled the two Big 10 powers and put them in the rearview, no one else had much hope of containing him. The rest was history.