Bowl games serve as opportunities for coaching staffs to try new things. After a 13 game season for both teams in the Sugar Bowl, the Longhorn coaches decided to throw some new things at the Georgia defensive staff lacking its defensive coordinator.
The offense Texas ran on the first day of 2019 was identical to the offense throughout 2018. However, Tom Herman and his staff interspersed a handful of plays they saw from opponents as part of what became a winning game plan.
The first was a play that Oklahoma has used to bewilder Big 12 defenses for years.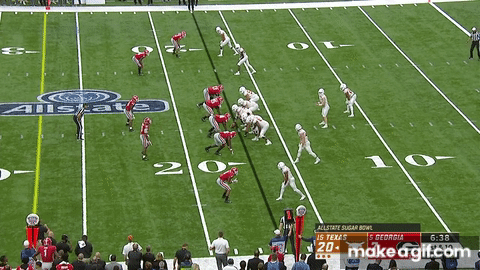 GT-counter has been a staple of the Sooner offense since Lincoln Riley arrived as offensive coordinator in Norman. A lot of healthy college run games have GT counter in the playbook, but no one executes it like the Sooners. They run it so much, they run an equally as deadly play-action version of play.
After seeing it countless times in preparation on defense, Herman decided to add one of Oklahoma's counter fakes to the offensive playbook. Andrew Beck gets in motion and jets out to the flat after the snap. He needs to be there because the two closest OL to where Keaontay Ingram catches the lateral (Elijah Rodriguez and Samuel Cosmi) are blocking for the counter fake.
Lil'Jordan Humphrey and Andrew Beck both do a good job of getting a piece of someone, while Collin Johnson remains engaged with his man through the whistle. JR Reed does well to tackle Ingram one-on-one, but not before he can pick up 6 yards.
It's not a perfectly executed play, but it's a wrinkle to a run play Texas used throughout the year with an extra detail possibly picked up from an opponent.
While the GT-counter screen incorporated an Oklahoma wrinkle with a Texas play, the Longhorns' two-point attempt to Collin Johnson came from the mountains of West Virginia.
This picture is before WVU's second two-point attempt that Herman thwarted with a timeout. Will Grier went to David Sills V one-on-one against Anthony Cook. The play worked, but a timeout was called before.
The second picture is from Texas' two-point attempt against Georgia, with Ehlinger choosing to throw to Johnson in one-on-one coverage. It worked.
The Longhorn staff isn't prone to isolationism. Late in the season, Herman contacted former Kansas head coach David Beaty to see what the old Jayhawk staff had on the Longhorns in preparation for the Big 12 Championship. Herman also mentioned in the lead-up to the Sugar Bowl that the two coaching staffs in the game had met and exchanged ideas in the offseason.
Not only is Herman's staff willing to listen to ideas from other coaches in the film room, but they also are willing to apply successful wrinkles they see on film to their own game.