Get FREE premium access until April 4th, then pay a reduced monthly rate for five months! Click HERE to sign up now!
I've spent some of today doing some research for the next Gameplan, which will center around how far along Sam Ehlinger is in executing the Herman offense, and I noticed a fun peripheral detail from the Texas bowl.
Early when Ehlinger came into the game, Texas (Herman apparently) called a power-read play that involved motioning in the H: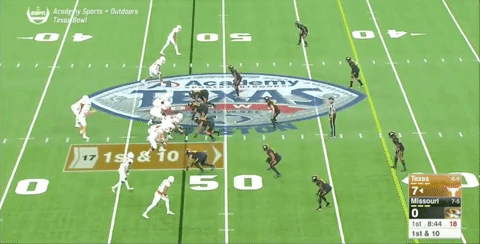 Watch the Missouri rotations in the defensive backfield. That motion triggered an auto-blitz from them to bring the sam linebacker off the field edge when Texas motioned a guy in like that. The blitz is designed to maintain a hard edge and either blow up a sweep play or box the ball in to the DL and LBs.
In this event it's a power-read with Ehlinger reading the unblocked DE play side. If that DE goes wide, he keeps it and runs behind the pulling Jake McMillon. If he steps down, he hands off to Reggie Hemphill-Mapps running behind a lead block on the perimeter from Kyle Porter. The DE steps down so Ehlinger hands off into the blitzing LB.
But then Texas came back on the next drive and runs it back: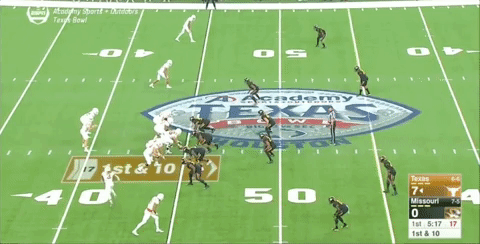 This time bringing the sam linebacker to the edge against the sweep turns out to be a problem and the aggression of the LBs burns them badly when Daniel Young slips upfield for an easy gain.
It'd be fun to know if this was anticipated and they wanted to see if Missouri would do it or not, if they drew it up on the sideline between drives, or if it was an automatic "hey they're bringing the sam, time for play X" kinda deal. Probably the latter.
Anyways, a fun little "pawn takes bishop" victory for Texas on the chalkboard in a year when those were all too rare.