Recently I was alerted to the presence of the recent golden triangle rivalry game between Port Neches-Groves and Nederland on the YouTube and took the opportunity to break down the PNG offensive performance. Particularly the performance of QB Roschon Johnson, who some of you may recognize as the 4-star recruit committed to attend the University of Texas in 2019.
So I've got some GIFs and thoughts on Roschon for you people.
The big picture

Roschon completed 8-18 passes in this game for 93 yards with zero TDs or INTs. Port Neches-Groves won the game 34-21 and that was due to some effective defense and Roschon also running the ball 35 times for 258 yards and five TDs.
Me and @Eric Nahlin have come to start talking about Roschon as the "RB version of Ehlinger" with Ehlinger being more of a FB style runner with good start stop quickness and toughness running downhill. Roschon will run downhill but he likes to bounce runs outside and he's a smoother and more explosive runner than Sam.
Ehlinger's trademark running move is the quick stop that leaves people flailing at him as they run by (after building up speed in order to generate the necessary force to effectively tackle him. After they miss or barely get his arms on him, he restarts and is generally tackled shortly after but from behind or the side as he drags defenders for another five or so yards and ends the play falling forward.
Roschon has a couple of trademark moves as a runner, one is a sort of euro step to sucker defenders into stepping inside before he bounces outside of them, the other is the stiff-arm when guys try to tackle him as he turns the corner on the edge. We're going to be talking a lot about that stiff-arm today, ladies and gentlemen.
The PNG offense is geared around maximizing Roschon the runner with Roschon the passer serving primarily as a constraint when teams sell out to stop the run game. This year they have a 11 personnel set that asks a pair of fellow seniors named Cooper Hammond (6-0, 205) and Kade Guilbeau (5-5, 180) to be his escorts as the TE and H-back/FB while they still spread the field with three receivers.
The Indians offense reminds me most of the K-State scheme and indeed Roschon's overall style and skill reminds me a great deal of Jesse Ertz, down to the knack for bouncing runs outside and stiff arming would-be tacklers. In the past I've seen them run a lot of iso but in this game they were running primarily QB sweep plays, some QB stretch, QB draw, and a dozen different versions of power. It's a run game that's ultimately built around power and running Roschon behind pulling guards. I'd venture a guess that power runs accounted for as many as 20 of Roschon's carries and 150 of his rushing yards.
The passing game is a typical spread attack with a little dropback, much of it oriented around hitting the perimeter or pushing the ball down the field when teams overplay the run. It's clearly not the team's strength to execute the dropback passing game but they aren't incompetent and they have a pretty good sized and sure-handed junior wideout named Kaleb Wuenschel (5-11, 165) that Roschon looks for regularly.
The OL also has 3-star Jaylen Garth, a 6-4, 270 pound tackle, but he didn't play in this game.
Roschon in the passing game
As you can tell from the stats, there isn't a lot to talk about here but I have a couple of cutups to give an idea of where he's at currently as a passer. PNG knows where their bread is buttered, which is featuring Roschon in the run game and blowing people away, but even that style requires that he be able to hit guys outside to avoid cover zero across the board.
Here's the bad, a missed dig route that was wide open over the middle: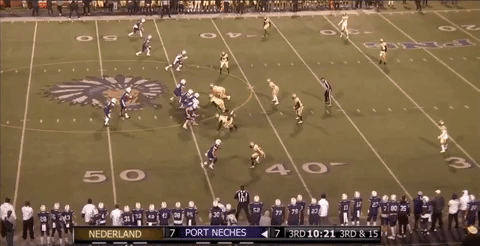 You see this at times from Casey Thompson, the issue seems to be jerky footwork that doesn't allow him to get set easily to make an accurate throw. Arm strength and ability to read the field aren't really major issues for Johnson though which portends the possibility of very effective development as a passer.
Here's some of the good: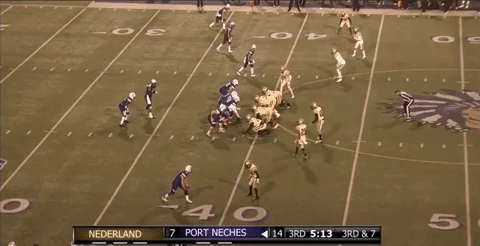 Roschon recognizes pre-snap that the boundary safety is playing as an overhang and fires a quick fade to Wuenschel with his feet set under him. That's a pretty good ball with great timing. Arm strength isn't a plus attribute of Roschon's but it's not a glaring weakness either, he can some guys down the field and throw to spots. He's also been in a HS offense that has focused very heavily on the run and will get much more extensive teaching and reps in the passing game at Texas, particularly as he sits behind Ehlinger and co for the first couple of years.
Roschon on the rampage

I dunno if Roschon was just pumped to play in this rivalry game for the last time, steamed over losing this game in a very close contest a year ago when Nederland simply had the ball last, or furious over some personal slight (perhaps @roschonsbigbro can help us out here) but Roschon was running angry this night.
Here he is bouncing a QB counter run before coming down hill and stiff arming someone to the ground en route to the end zone: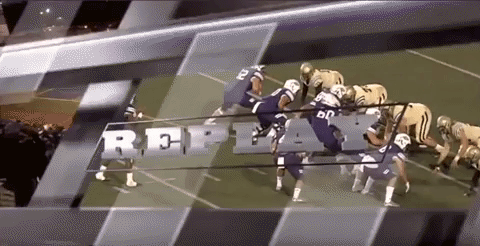 Here he is stiff-arming two opponents to the ground before he trotting back to the line of scrimmage to run another play on a QB sweep: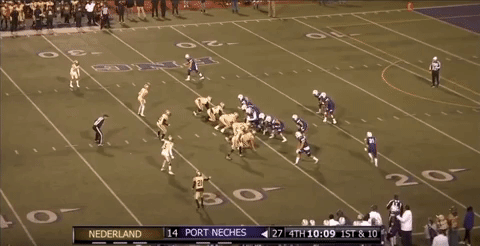 Here's QB stretch with a stiff-arm at the goal line that would make Earl Campbell proud: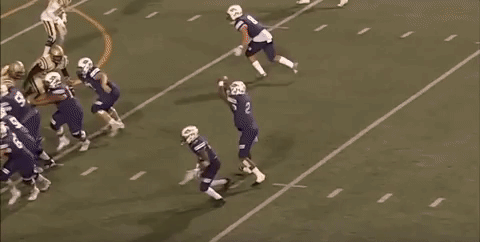 He threw perhaps a dozen other stiff-arms in this game as well but the savagery of these take the cake, particularly that last one, shown here from another angle.
I'd be remiss if I didn't also include this impressive TD run on a QB draw that lacks only Roschon throwing some hapless defender to the turf in terms of excellence: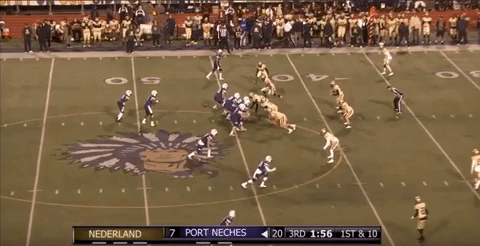 I think this run and the stiff-arms reveal that Roschon packs a ton of power in that 6-2, 200 pound frame of his. He generates power very easily and while he looks fluid and quick, I don't know if he's blazing fast so much as he is precise, coordinated, and powerful.
In a well designed offense in which his passing acumen is used to set up his running ability in a versatile, misdirecting, and power-based run game he can do some really amusing things to high school defense. I think it's a good bet that with further development of his passing skills and some additional S&C that he could do some really fun and amusing things to college defenders some day as well as a 6-2, 225 pound QB/RB hybrid.