Get FREE premium access until April 4th, then pay a reduced monthly rate for five months! Click HERE to sign up now!
As a part of my review of the offense from last season I found another fun chessboard battle between everyone's favorite B12 coordinators, Tim Beck and Mike Stoops.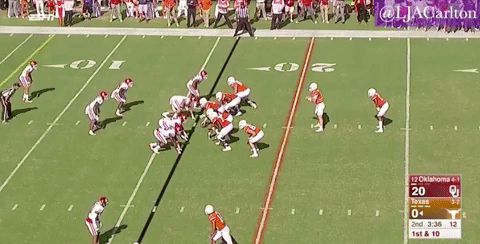 Texas is lined up in an unbalanced set with the RB (presumably) at the bottom of the formation off screen and ineligible while Heard is lined up at RB. The 2017 Sooner defense, which has never been accused of having good plans or high football IQ, are in a corner over set and on the boundary they have Jack LB and star pass-rusher Obo Okoronkwo, senior weak side LB Emmanuel Beal, and safety Kahlil Haughton.
The adjustment here is for the senior Beal to go out and cover Heard, although he checks back to freshman LB Kenneth Murray who somehow knows the defense better, in a "wait, me? You sure?" kind of fashion.
It seems that Beck did his homework and knew how OU liked to line up against unbalanced sets (probably from his own experience with them the year before when Ohio State thrashed them with unbalanced sets) and knew that if they went into this play with tempo they could catch the Sooners with the "hide the RB" trick. They called this after an Ehlinger first down run and naturally, Texas took their shot at that matchup.
Obviously Texas didn't pick up that nickel blitz but the route and the throw were both pretty good, Beal just remarkably managed to track Heard and make a play on the ball.
Overall I'd say that Beck had Stoops pretty well whipped in this game. Imagine having LBs that can run like this along with Okoronkwo and some DTs that gave Texas fits all afternoon and still getting lit up by a freshman QB with lots of freshman skill players. For what it's worth, that puts Beck at 2-0 over the Mike Stoops' Sooner D on my card.
This play is also a good microcosm of what kind of season it was for Tim Beck. He knew he had the Sooners beat from that formation and with that motion and route. They executed it well and then it just turned out that Beal played it pretty well in coverage. Texas was routinely a missed assignment or bad break away from putting something good together in 2017.
Good luck next year, Stoops.