Member Who Talks (A Lot!)
Apr 3, 2017
1,183
5,498
0
Whew, after last week's slobberknocker matchup between Argyle and Texarkana Pleasant Grove it feels like this week has its work cut out for it... In the infamous words of Lee Corso "Not so fast my friend!" while this week doesn't have teams with 4-5 D1 players on each side, there are still a ton of value games where you can get eyes on players that will make an impact at the next level. Here are my picks for tonight's slate of games across the state, as always I linked the full list of games streaming from DCTF below. If you have a game not on the list that you feel like offers some recruitnik value please make sure to share in the comments.
3A DI No. 6 Rockdale at 3A DII No. 7 Lexington
7:30 p.m.
Stream Link
Players to watch:
2022 Lexington
ATH Jarred Kerr-
Offers from Texas, Oklahoma, Florida, and Notre Dame
2021 Rockdale
RB Cam'Ron Valdez-
Offers from Nebraska, Texas Tech, Oklahoma State
2022 Rockdale
ATH Kobe Mitchell-
No 247 profile or offers.
Sleeper to keep an eye on, was supposed to be a WR this year but injuries forced him into the QB role
.
4A DI No. 6 El Campo vs 4A DI No. 8 Port Lavaca Calhoun
7:30 p.m.
Stream Link
Players to watch:
2023 El Campo
RB Rueben Owens-
Offers from Florida, Georgia, Oklahoma, Texas etc.
Top 25 player right now in the sophomore class, El Campo has a stable of high quality RBs that keep Owens fresh throughout the game. Don't expect to see the Ricebirds run him into the ground with 30+ carries.
2022 El Campo
RB Johntre Davis
- No Offers yet
2021 PLC
FB/ILB Steve Johnson
- No Offers yet.
If his grades are good Steve Johnson should be a P5 Walk on ILB. He'll get a lot of carries in PLC's "Flying Veer" offense.


4A DII No. 4 Wimberley at 4A DI No. 3 Lampasas
7:30 p.m.
Stream Link
Players to watch:
2021 Lampasas
QB Ace Whitehead-Texas Baseball commit/2019 4A POTY
2021 Lampasas
WR Michael Murray Jr- New Mexico commit
2021 Wimberley
ATH Christian Marshall
-
Likely follows a similar path of 2020 Wimberley QB Cooper McCollum (TAMU) and ends up as a walk on Baylor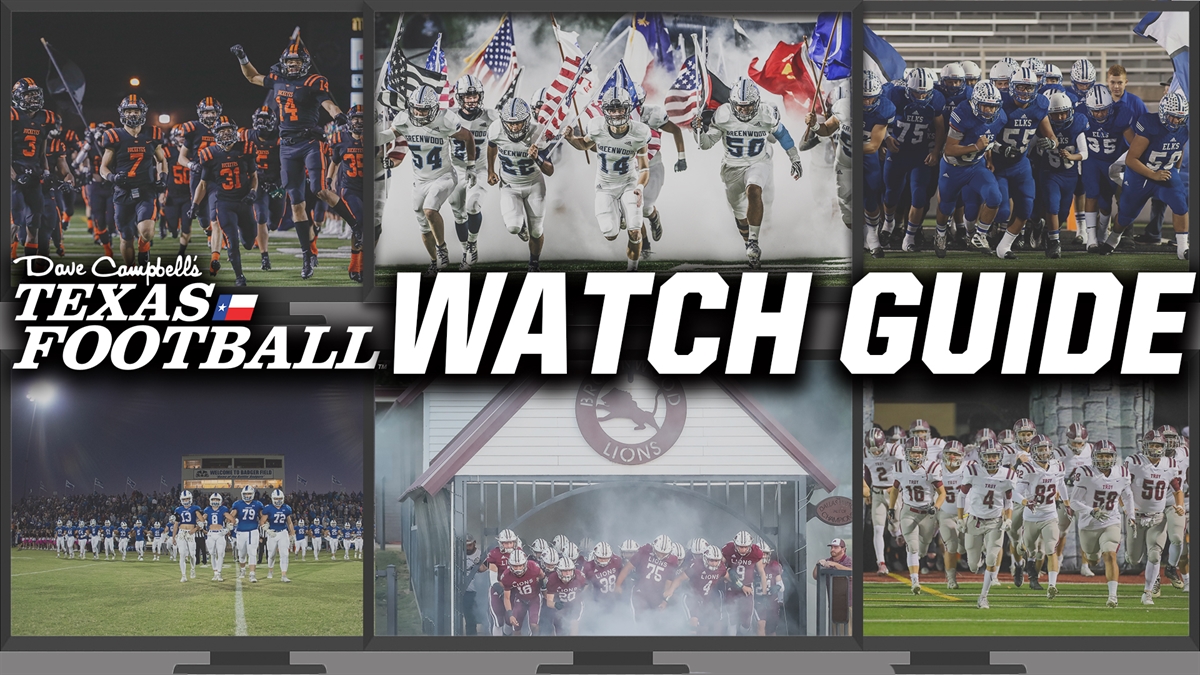 A compiled list of online video streams of this weekend's slate of Texas high school football games, including Wimberley at Lampasas, Rockdale at Lexington, San Saba at Mason and El Campo at Port Lavaca Calhoun
Last edited: