Week four of the TXHSFB Season and if all goes according to plan this will be our last week without 5A and 6A. It's been nice to watch exclusively 4A and below ball for the past couple weeks but I'd be lying if I said I wasn't itching for that Arlington Martin vs. Denton Ryan matchup next week at JerryWorld (also on FSSW). This week we will only roll with 2 marquee games and they're pretty chalky picks, as always we have the official DCTF stream list linked below.
4A DI No. 2 Waco La Vega at 4A DI No. 1 Argyle
7:30 p.m.
Stream Link
Stream Link
Players to watch:
2021
Argyle TE Jasper Lott
- Offers from Arkansas, Ole Miss, TCU, and Auburn|
#87
2021
Argyle T Jack Tucker
-
Texas Tech Commit
|
#75
2021
Argyle RB Tito Byce
- Navy Offer|
#9
2021
Argyle QB CJ Rogers
- Eventually will be a G5/FCS QB|
#12
2022
Argyle T Sheridan Wilson
- Offers from Arizona State, TCU, and Texas Tech|
#72
2021
LV RB Jar'Quae Walton
- Air Force and Northwestern State offers
2021
LV RB Elisha Cummings
-
Idaho Commit
4A DII No. 9 Silsbee at 4A DI No. 2 Texarkana Pleasant Grove
7:30 p.m.
Stream Link ($)
Players to watch:
2021
PG OLB Landon Jackson
-
LSU Commit
|
#40
2021 PG DT Marcus Burris- A&M Commit- Out for season/Achilles
2021
PG ATH Nick Martin
- Offers from Kansas State, Texas Tech, and Arkansas|
#6
2021
PG DT Torey Phillips
-Offers from UNT, ULM, and UNLV|
#50
2024
PG ATH Jaylen Boardley
|
#15
2021
Silsbee IOL/DT Ayden Bell
No Offers|#73
2023
Silsbee MLB Jaren Williams
| #40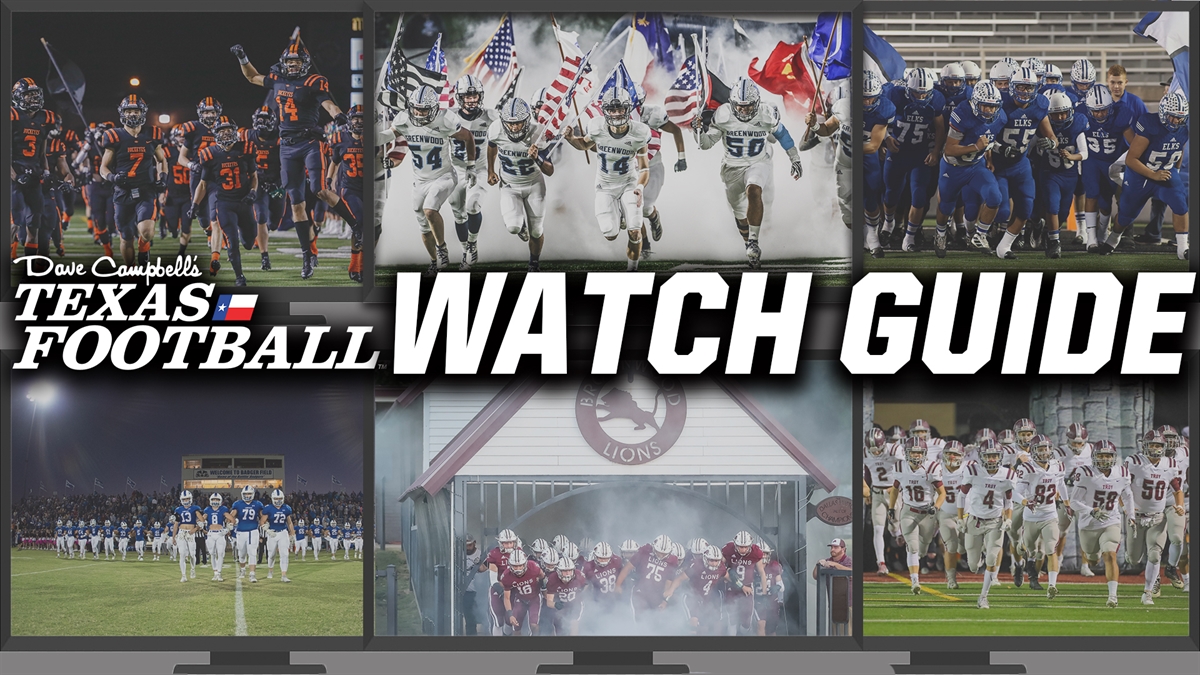 A compiled list of online video streams of this weekend's slate of Texas high school football games, including Waco La Vega at Argyle, Abernathy at Post, Hereford at Lubbock Estacado or Glen Rose at Grandview