Want information on Texas Football and recruiting from Eric Nahlin, Justin Wells, Ian Boyd, Scipio Tex, Joe Cook, Gerry Hamilton, and Bobby Burton? Sign up for Inside Texas HERE today!
Texas joined a list of college programs trying to catch Nick Saban by hiring one of his proteges in Steve Sarkisian. But between Kirby Smart, Jeremy Pruitt, Will Muschamp, and several others, Sarkisian stands alone in acting in Saban's place as head coach, even if only for one game.
Saban tested positive for COVID-19 during the week of Alabama's annual matchup with Auburn. When it became clear Saban would not be on the sidelines, he tabbed Sarkisian to be acting head coach for the rivalry.
The Crimson Tide missed its head coach but didn't miss a beat on the field. Alabama routed Auburn, 42-13. Mac Jones was 18-of-26 for five touchdowns, Najee Harris ran for a score, and DeVonta Smith caught seven passes for 171 yards and two touchdowns.
The contest presented Sarkisian a handful of scenarios where he had to take game management into his own hands. For the first time in five years, Sarkisian was in charge.
His first chance came in the second quarter. With 1st-and-goal at the Auburn 7, Sarkisian ran a play action pass for John Metchie that gave the Tide a two-score lead.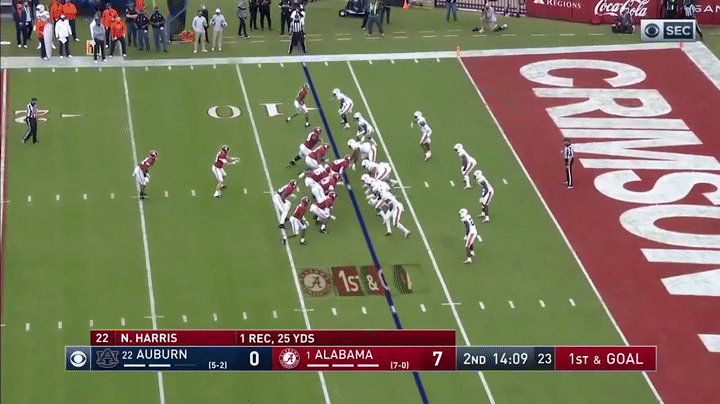 "Sark is making some pretty good decisions here so far," CBS Sports' Gary Danielson said on the broadcast.
But Danielson was describing Sarkisian's play calling more than his decision making. Sarkisian eventually found other chances to make more decisions.
Just before the half, Alabama took possession on its own 17 with 4:07 left and two timeouts. Alabama would receive the opening kickoff of the second half, so Sarkisian had an opportunity to compound Auburn's issues with a pre-halftime score.
Brian Robinson Jr. received the carries this series, rushing four straight times to begin the drive. Alabama was in no hurry, traveling 23 yards in 2:37. On 3rd-and-7, Sarkisian called a pass for Metchie that fell incomplete, ending the drive.
Alabama sought to methodically move down the field to take up the remainder of the half and at least get into field goal range, but the Auburn defense gave their sputtering offense a chance to cut the Tide lead to a one-score margin with their stop.
Auburn was one drop away from making the contest close, too. On a play identical to Smith's early touchdown, Seth Williams got behind Crimson Tide defenders and tracked a pass from Bo Nix. What would have been a touchdown fell through his hands and to the ground.
The missed opportunity cost Auburn as Bama's Malachi Moore intercepted Nix with 15 seconds remaining to limit Auburn's first half scoring to a single field goal.
From there, Sarkisian the play-caller made life easy for Sarkisian the head coach. There were only a couple examples of involved game management in the remainder of the game.
Leading 28-6 in the third, Alabama began a drive on its own 39 after Auburn missed a long field goal. Metchie caught a pass from Jones but was tackled just short of the line to gain with just over 6:00 left in the quarter, setting up a 3rd-and-short.
Alabama moved quickly. Jones moved under center behind a goal line set and snuck forward for the first. From Metchie getting tackled to the first down sneak, barely 20 seconds passed. Two plays later, Harris ran 39 yards to the end zone to make the game 35-6 Tide.
An identical situation appeared later in the third and Alabama used an almost-identical approach. Robinson Jr. was tackled short of the first down marker to set up 3rd-and-1 on the Auburn 42 with 1:13 left in the quarter. Alabama again rushed to the line with Jones under center, and the Tiger defense was not prepared for whatever Sarkisian called.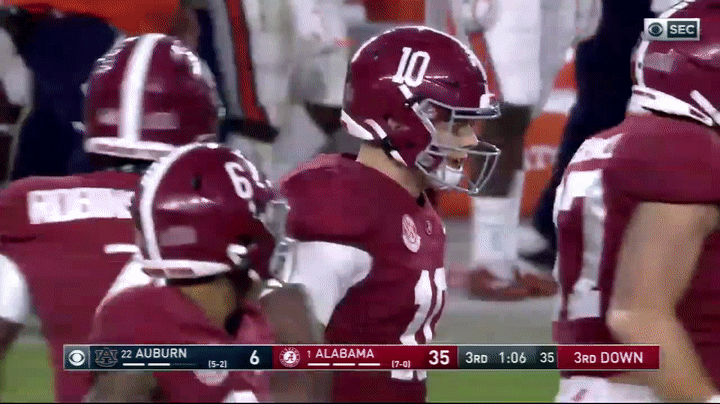 It ended up being a reverse to Smith that gained nine yards and the first down. Auburn's illegal substitution penalty as a result of the no-huddle was declined.
The game was easily in hand by that point, and Alabama cruised the rest of the way. When Sarkisian pulled most of the starters with 4:39 left in the game, he still called pass plays for freshman quarterback Bryce Young.
Though Sarkisian drew praise from Danielson on the telecast, he never was faced with a management decision that truly impacted the game considering how outmatched Auburn was. Saban returned to the sidelines a week later, relegating Sarkisian back to offensive coordinator.
Sarkisian's return to head coaching means a return to having the buck stop with him. Though nearly six years have passed since he last was a permanent head coach, it hasn't been near that long since he had to make the final decisions.
Photo from the Library of Congress/Carol Highsmith