Want daily Texas Longhorns content on the latest team and recruiting information from Eric Nahlin, Justin Wells, Ian Boyd, Scipio Tex, and Joe Cook? Sign up HERE today!
With his 107 receiving yard performance against Iowa State, Texas' Devin Duvernay became the eighth receiver in school history to record a 1000-yard season. He joined Lil'Jordan Humphrey (1176 yards in 2018) as slot receivers in Texas head coach Tom Herman's offense to eclipse the 1000-yard mark.
"There's no doubt that we're able to take advantage of that guy in the slot probably as good as anybody in the country based on the numbers dating back to four or five years ago at the places we've been, Coach Herman and myself," Texas offensive coordinator Tim Beck said November 13.
Whether it was Humphrey and Reggie Hemphill-Mapps in 2017, Humphrey alone in 2018, or Duvernay in 2019, the slot receiver is the most productive position in the Longhorn offense under Herman. Of the eight players to record 1000-receiving yard seasons in the history of Texas football, two have played slot, called H in Herman's offense.
Hemphill-Mapps and Humphrey split time at the position in 2017. The two combined for 833 yards on 74 receptions. Hemphill-Mapps left the program after the season, ensuring Humphrey would man the position in 2018.
He produced once again in that role, becoming the seventh 1000-yard receiver in school history. His versatility at 6 foot 4 inches, 225 pounds meant he could play multiple roles in UT's offense, including some wildcat quarterback and boundary receiver. H was where he became a household name in the Big 12 and one of the hardest matchups opposing defensive coordinators had to consider every week.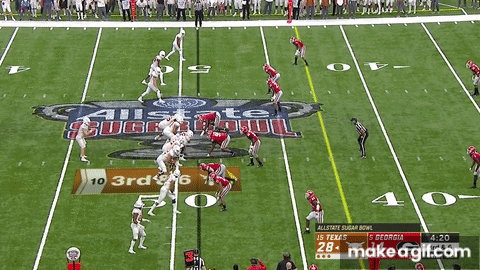 Though Humphrey left early for the NFL following his 1176-yard season, his position remains a driving force in Texas' offense. Duvernay, who moved from outside field receiver (labeled Z) to slot this past offseason, saw a significant uptick in his targets and production and remained as reliable inside as he was on the outside in 2018.
"I'd like to think players and the two guys that have been those positions are obviously incredible athletes and have done a great job of being great playmakers," Texas QB Sam Ehlinger said November 19. "I think I've been really comfortable with those guys, LJ last year and Devin this year. I always know where they're going to be on the field. Both of those guys have done a great job of optimizing their opportunities."
Duvernay possesses a different physical profile than Humphrey. At 5 foot 11 inches and 210 pounds, Duvernay could be confused for a running back. Humphrey possessed the frame of an outside receiver with the movement skills of an inside receiver. Despite those differences, both succeeded at the position.
A huge factor behind that is how opposing defenses handle the player in that position. Outside receivers for Texas are often asked to win one-on-one matchups without tons of space to work with. At several points last season, Ehlinger and his backup Shane Buechele explained Longhorn QBs are told to throw to receivers in one-on-one coverage because they believe Texas' receivers are talented enough to defeat single coverage.
The H receiver is different. He gets more room to operate, often working in the middle of the field against zone coverage, or with space to work in via a run-pass option. In addition, the H receives targets via screens, a staple of the Texas passing offense.
Even Duvernay's backup at the position, freshman Jake Smith, reaped some of the benefits of being in the most productive position in the Texas offense. Despite struggles after an early season flash, Smith accumulated 20 catches for 207 yards and 5 scores from the spot with at least three games remaining in the season.
In 2019, the H has accounted for 1224 receiving yards and 12 touchdowns on 107 receptions.
This isn't to say receivers at the X and Z positions can't produce. Senior WR Collin Johnson was 15 yards short of reaching 1000 last season in 13 games. Sophomore Brennan Eagles is second behind Duvernay in touchdown receptions this season with six, most of those accumulated at Z.
However, those two positions don't get nearly as many opportunities in the open field as H.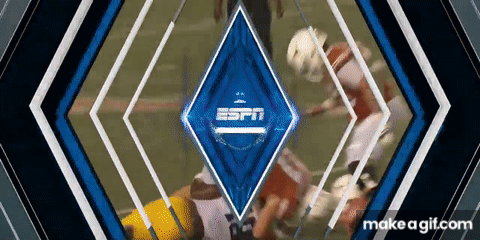 "At the H, you definitely get a lot more in space," Duvernay said November 19. "At outside, you get more one-on-one matchups you're expected to win."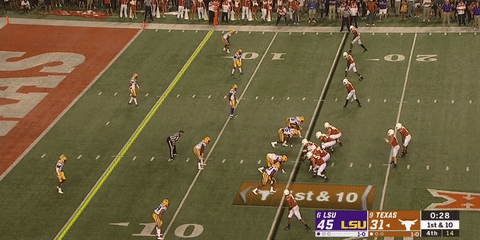 Duvernay has been successful at the H position, and much of that has to do with the room he finds himself able to work with. His success this season proves H is the most productive position in the Texas offense, and players with differing physical abilities can succeed thanks to the opportunities afforded to that position.