Want daily Texas Longhorns content on the latest team and recruiting information from Eric Nahlin, Justin Wells, Ian Boyd, Scipio Tex, and Joe Cook? Sign up HERE today!
Texas' 37-27 defeat in Fort Worth to TCU was a complete catastrophe. It was the punctuation mark on what is quickly turning into a nightmare season for the Longhorns in which a wildly talented and deep roster paired with a favorable schedule and vulnerable Oklahoma has turned into a fiasco. The Longhorns have four losable games left on the schedule, including road trips to Iowa State and Baylor, with a shot at the Big 12 championship still in play.
Tom Herman's Longhorns had a similar downturn a year ago, dropping back to back battles with Oklahoma State and West Virginia before putting everything back together with a big home win over Iowa State and an eked-out win at Kansas to secure passage to the Big 12 championship. Texas will probably need to win out in order to pull off a similar feat, which if paired with a Big 12 title game victory would salvage the season. However, it's possible that the road games against Iowa State and Baylor will be two of the toughest games of the year though, so the squad that could barely fend off Kansas and fell apart against TCU doesn't look like a great bet to pull it off.
The loss to the Frogs was a perfect encapsulation of everything that has gone wrong for Texas this season. If Herman and his staff can patch the holes over the bye week, they may be indebted to Gary Patterson for shining a light on issues that could prevent Texas from doing anything in 2019 worth celebrating as a step forward for the program.
The defense
The topic of the Texas defense is one of the most poorly understood issues of this team and college football in general. The Longhorns settled on the same gameplan as this column and played the Frogs from the 3-3-5 with Joe Ossai as the "semi-nickel" or sam linebacker and Brandon Jones as the mike safety in the inverted Tampa 2 defense.
With Brandon Jones as the mike safety in the middle of the field, closing on the ball with some freedom, Texas was pretty effective. Jones made an early INT from this call and had 11 tackles with a half-credit on a TFL. The truth is that Texas defended TCU fairly well, with a few notable exceptions that made all the difference.
For the game Max Duggan completed 19 of 27 passes for 273 yards at 10.1 ypa with two TDs and one INT. Frog running backs Sewo Olonilua and Darius Anderson combined for 25 carries that produced 75 yards at three ypc with one TD, so obviously it was TCU's efficiency in the passing game and Duggan's running (11 carries for 81 yards and a TD) that did Texas in.
The popular narrative about the defense is that the pass-rush is bad, evidenced by the two total sacks this season by the Longhorn DL and Todd Orlando's tendency to bring exotic or extreme pressures in key moments of the game. This narrative is actually false, neither the DL nor the pass-rush are to blame for the regular failures by Texas' pass defense nor Orlando's disastrous proclivities on third and long.
On review I found five Duggan completions in this game that came against some sort of blitz, I'm sure there were a few more but those five completions alone accounted for two touchdown passes, conversions on 3rd and 11 and 3rd and 14 during TCU's game-sealing drive, and 131 total yards. Deduct those five plays and Duggan completed 14 of 22 passes for 142 yards at 6.5 ypa with zero TDs and one interception.
That's not all either, TCU's field goal drive before the half took place against a combination of fire zone blitzes and a drop eight prevent defense that looked like this: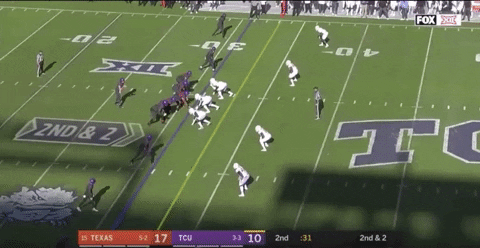 You may notice that despite fumbling the snap, Duggan was able to get that ball out within about three seconds, particularly by hunting Ayodele Adeoye in space. Any longer than three seconds and the Texas pass-rush is going to move him off his spot, at the least, but he didn't need the time. Texas' pass defense against five-wide this season, at least in that 3-3-5 package, is pretty terrible and may come up in a pretty spectacular fashion against Baylor or Iowa State next month barring some personnel changes.
At any rate, I counted another four completions for 43 yards that came against that softer version of drop eight coverage. TCU ran 68 plays on the day for 435 yards at 6.4 yards per play. When they were running plays against Texas' inverted Tampa 2 base defense, their numbers were closer to 59 plays for 261 yards at 4.4 yards per play. Texas' simple, drop eight, inverted Tampa 2 scheme (with still a few blitzes and other looks thrown in there) was resulting in winning football. They gave the game away by blitzing on key downs, particularly the sudden change play after the second Sam Ehlinger interception and the 3rd and longs that TCU converted on that game-sealing drive in the fourth quarter. It should also be noted that the 3rd and 11 blitz involved Texas showing an edge pressure with Ossai before dropping him back in order to bring a late and poorly executed inside linebacker blitz.
For the second time this season, Texas had a chance to go win a game late on offense, as Big 12 teams often have to do, and Todd Orlando ruined it by being needlessly aggressive with his play-calling. The context couldn't be much clearer, this should be beyond dispute.
The problem is a philosophical one. Todd Orlando plays a three-down defense because it offers him extra versatility in creating zone blitzes, which are ultimately his base defense. The trick with zone blitzes is that everyone in your interior backfield has to be able to play multiple roles within the blitz structure and your cornerbacks don't get safety help over the top. The upshot is that what should be your main priority in the Big 12, which is ensuring bracket coverages on opponents' top receivers favorite routes, is an afterthought. The first priority is teaching your linebackers how to blitz and drop into multiple roles, teaching your safeties how to replace linebackers, and teaching everyone how to communicate and match up in order that the blitz doesn't let receivers run free up the seams.
The inverted Tampa 2 is the exact opposite sort of defense. It's all about keeping the ball in front of you, playing fast, and getting numbers to the ball. Orlando is not incapable of teaching those things, but it's not what he believes in. When opponents get Texas backed up against the wall or it's a crucial drive in the fourth quarter, you can always count on Orlando to bring pressure. Incidentally, that makes it really easy for a young guy like Duggan to get the ball out quickly, especially if he has a matchup he likes against the cornerbacks or nickel. Opponents know what's coming.
If Texas can plug in some of their wounded DBs and get better at clamping down on opposing gameplans from the inverted Tampa 2 defense, the Longhorns could win the Big 12. There's not much reason to believe they'll do it, but that path to redemption still exists for this season.
The offense
Gary Patterson has almost always followed the same basic formula for building good defenses at TCU. He'll scout you for all he's worth and then try to out-guess you on first down in order to set up passing downs where his players will out-execute you.
In the second half against the Frogs, Texas's offense ran 12 plays on first down. In those 12 plays, they ran the ball four times for 11 yards at 2.8 ypc with 10 of those yards coming from an Ehlinger scramble on Texas' final drive. They threw the ball eight times for two yards at .3 ypa. Obviously Patterson was able to guess pretty well, there's not a better "battleship" player in the Big 12.
That set up a lot of passing downs for Texas, such as these two: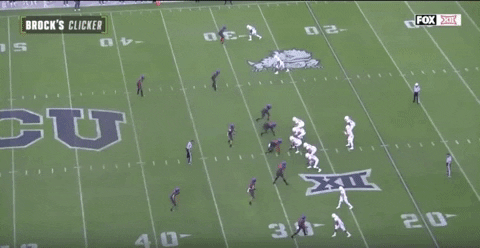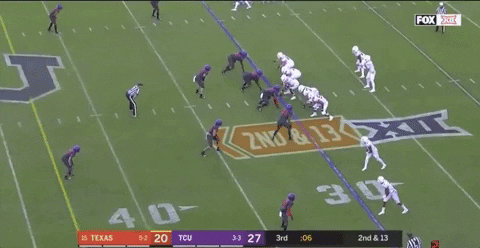 Both of these plays share a common trend line. In both instances Texas lines up in the same formation, the boundary twins set with the TE flexed out to the field:
Much like the "touchdown play," Texas has come to rely far too heavily on this set-up. It's not an unbalanced formation in the sense people mean when they use that term, but the threat levels are not distributed evenly. Both Devin Duvernay and Collin Johnson are lined up in the boundary to the short side of the field. TCU, like many other opponents, doesn't like to put their strong safety/nickel to the boundary and get run on, so Duve gets matched up with a linebacker instead while the strong safety is matched up on a tight end. Texas is trading space for matchups, in effect, getting their better receivers on weaker opponents but giving them less space to work in.
It's a reasonable trade and a useful formation, but it's one that Texas simply uses too much. The major problem the other week was that the Frogs weren't remotely afraid of the matchups they're yielding to the TE and Z receiver in space. On that first INT, when Jake Smith is substituted in for Duvernay, the Frogs basically play cover zero on those two receivers with the field CB and strong safety while shading the free safety over to bring an additional defender over to help against Smith and Johnson. That doesn't end up making the difference so much as Smith's poor route, but it's telling of the strategy that the Frogs were using so effectively throughout the second half
On the second pick, they play cover 2 over Duvernay and Johnson, cover zero on the RB, TE, and Z receiver with the field corner, free safety, and sam linebacker, and then blitz the strong safety. That flushes Ehlinger, who then threw the INT to the free safety who'd come down to match the TE in man coverage.
They were cheating to Texas strengths, just as Oklahoma State did in their upset win last year and just as Oklahoma did in the Big 12 title game.
So what's the solution?
The one most people want is for Texas to stop flexing out the TEs and just play in 10 personnel. That solution carries an underappreciated price, Texas' ability to operate at tempo and punish opponents for their personnel choices. If you sub to 10 personnel you throw out a considerable chunk of your playbook while inviting the opponent to play in dime. However, in two-minute offensive drills when Texas is running four-wide on every snap without the intention of running the football much, there's no longer much benefit in playing a flexed out TE over Jake Smith. Opponents can't cheat to cover Duvernay in the boundary if that means playing cover zero against Smith.
Another solution is for Brennan Eagles to be on the field, he was held out for disciplinary issues and Texas badly missed him when the Frogs were treating their field twin receivers as non-threats. Honestly, if Eagles and Jordan Whittington are playing key snaps in future games, then many of these issues will magically disappear. You can't cheat to Duvernay and Johnson if that means playing a linebacker in man coverage on Whittington AND a corner in man on Eagles with no safety help for either.
Then there's the option to just be more multiple with their formations, whether in 11 personnel or not, and move around who goes where in order to keep defenses from having a handful of well-drilled answers that can account for the main thrust of their passing attack. Texas probably lost some of their optionality here when Eagles was lost, they'd made an obvious point of expanding his package and building his confidence against Kansas only to go without him on the road in Ft. Worth. It made a big difference when stacked up with Patterson's well prepared DBs and Texas' lack of multiplicity.
The run game has suffered from similar issues and has been much less multiple than even a year ago, probably due to the loss of Andrew Beck. Texas has looked less confident or determined to establish the run this season, which is a mistake because the run game is actually still very potent. Many of these issues are probably solved if Herman is operating as more of a quality control coach from the top without having to hold the hands of his deep staff of offensive coaches. There's a big difference between calling plays and trying to manage the overall game or managing the overall game and chiming in every now and again with something like, "hey, don't you think we should be looking to get back to that power run series we were working on all week?"
When you examine the talent and options available to this Texas team, it becomes clear the degree to which their current problems are the result of massive blunders and a failure to leverage talent. A focused team in control of their faculties doesn't lose to TCU and probably pulls of a win against Oklahoma or LSU, if not both. A focused team with a clear plan, better self-scouting, and strong awareness of their remaining opponents could absolutely win out and take the Big 12 championship in December. The degree to which this loss and subsequent bye week is able to bring clarity and focus to this team will determine whether they beat the odds and make good on 2019 or whether they wander into the wilderness and head back towards Egypt.