Want daily Texas Longhorns content on the latest team and recruiting information from Eric Nahlin, Justin Wells, Ian Boyd, Scipio Tex, and Joe Cook? Sign up HERE today!
Texas' inherent advantage against downhill, ball control teams bore out again in their 27-24 victory over Kansas State. As skilled and multiple as the Wildcat senior OL and run game may be, Texas had them beat in the trenches with their superior DL play. K-State's attempts to run power from multiple formations then use that to create play-action fell flat because they couldn't control the box with their base schemes.
Spread power was a bust…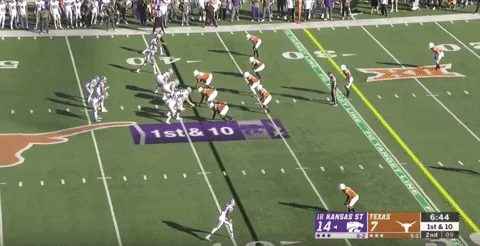 …as was the traditional I-formation version…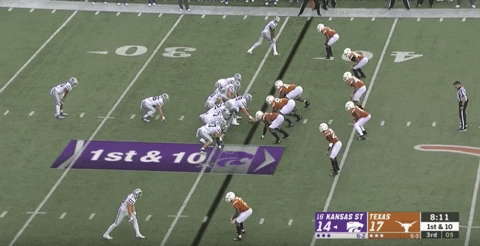 …and power-option attempts to hit the perimeter were also shut down.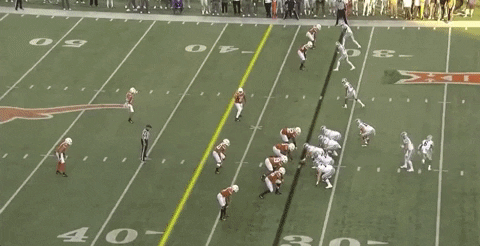 When the game actually comes down to how well opponents block the Texas front, either in the run game or throwing the ball, then you see intention of Todd Orlando's designs.They sacked Skylar Thompson three times on Saturday and inflicted six tackles for loss while shutting down the run-first Wildcats.
But holding up against a run-oriented team that wants to smash you in the mouth has never really been the question for Orlando's Texas defense. The question has concerned how they handle teams that attack their ability to quickly process assignments and their ability to cover teams or bring pressure without exposing the defense to easy reads and throws from the QB. If Kansas State had brought more of a spread passing attack into this contest rather than handing off to their RBs 19 times for 51 yards at 2.7 ypc, the Longhorns may have been picked apart and dealt a season-ending defeat.
Instead Texas is still alive heading into the crucial two-game stretch that will determine their fate for 2019. First up, the road trip to Ames to play Brock "pump fake" Purdy and the Iowa State Cyclones.
Defending Iowa State
The main story of the Cyclone offseason centered around how they would replace the lost production of Hakeem Butler and David Montgomery. The former was a 6-foot-5, 230 pounder who ran a 4.48 at the combine after posting 1318 receiving yards and nine touchdowns in 2018. Montgomery checked in at 5-foot-10, 222 pounds at the combine and ran a 4.68 after a season in which he ran for 1216 yards and 13 touchdowns while breaking tackles on every other run. Obviously both were pretty special athletes and their production amounted to just over half of the team's total yardage.
Nevertheless, last year's Cyclones averaged 5.8 ypp and this year's unit is at 6.9. They have a young star RB named Breece Hall (who's been on a tear since being made the starter with 585 rushing yards and 153 receiving yards), a number of skilled receivers, and a 6-foot-6/250-pound TE named Charlie Kolar who's an absolute menace and surefire NFL draft pick. In other words, Matt Campbell had some new gems on the roster that he's rotated into feature roles. Finding NFL caliber skill talent that he can recruit to Ames just seems to be a Campbell specialty.
Then there's pump fake Purdy, a classic Big 12 spread QB in the mold of Todd Reesing. In fact, there's very much a "Mark Mangino Kansas" feel to this entire Iowa State football program. Really solid linebackers, surprisingly good skill talent, and sturdy players up front on both sides of the ball that aren't as easy to overpower as their recruiting rankings would lead you to believe.
Oklahoma's defensive gameplan was oriented largely around matching up against Kolar, and they gave up 110 rushing yards at 6.1 ypc to Hall while Purdy spread the ball around to their full cast of receivers and hit their other two TEs for TD passes before finally finding Kolar at the end of the game.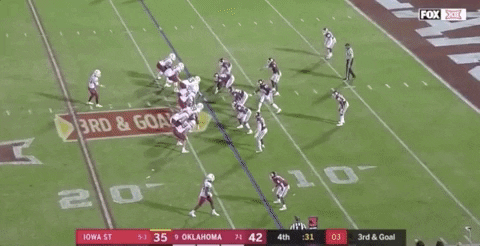 Lethal play design here, the Cyclones are in a 4×1 set and are in 03 personnel with two WRs, three TEs, and no RB. They overload the seams with vertical routes and isolate Kolar running a quick double move to win inside against the nickel.
Touchdown. A similarly creative design, better awareness by Purdy to find an open Kolar, or better officiating and they hit the two point conversion attempt that followed as well and leave Norman with a win and a shot at the Big 12 championship.
Texas is lucky to be playing them a week after they fired a bunch of their bullets against the Sooners and right after they were effectively eliminated from the league title game. However, if this was the sort of team that didn't bring big effort every week regardless of circumstance they wouldn't have come within a missed defensive pass interference call of beating Oklahoma on the road in primetime after being down 42-21 to start the fourth quarter. It's easy to see the Cyclones rallying for a chance to hit six wins with a big home victory over big, bad Texas.
Iowa State's ability to create confusion and matchups with their multiple tight ends, spread-option plays, and PFPurdy's mobility make for a nightmare offense to defend. And again, don't overlook the caliber of skill athletes that Iowa State's motions, multiple formations, and schemes are designed to feature:
There are two bright spots though for the Longhorns, two bright spots that showed up in this same contest a year ago.
First, Iowa State prefers to use the run to set up what they can on offense. While they have spread-option and RPO elements to their offense, they want to try and control the ball and create matchups. They aren't a smashmouth spread team looking to score by throwing over the top until you back everyone off the ball. The WRs on this team tend to do a lot of their work on crossing routes and screens and everyone takes turn running deep to clear out space for each other, TEs on overmatched defenders or WRs on slow LBs.
They may still torch the Texas D but at least their passing concepts tend to take some time to develop and aren't designed to make the worst DB cover the best WR on a vertical like Dana Holgorsen would do to this team.
Secondly, the Iowa State OL is highly experienced but not terribly good. They had major problems blocking OU's athletes up front (six false start penalties). They rely heavily on getting blocking help from TEs like Dylan Soehner (6-6, 277 pounds) and on PFPurdy's ability to escape pressure in order to get by with some limited players along the OL. It's going to be fascinating to see what happens next year when they trade out four senior starters for some coming of age Campbell recruits.
The obvious path for Texas in this game is to continue to play Malcolm Roach as a true DE opposite Joe Ossai so they can contain Purdy in the pocket and rely on DL push or LB blitzes to overcome the ISU OL and blow up the Cyclone designs before they can really take effect. Texas got away with playing Kris Boyd and Davante Davis on islands a lot in 2018 without getting torched by Butler or anyone else in part because they were so disruptive on early downs and put a lot of duress on Purdy.
Incidentally, Purdy hasn't accumulated very many carries this season and they seem to be protecting him where they can. He ended up with 15 carries vs OU, but that was largely due to how many possessions they got and a lot of scrambling. Texas should expect to get the Cyclones' best shot but I don't know if the designed QB run game will be a major component.
The key to this game will be the work of Caden Sterns and Brandon Jones cleaning up from depth. If they can limit big plays on the snaps where Iowa State wins the edge on outside zone or springs Deshaunte Jones on a shallow cross past a clueless linebacker then Texas may be able to limit a very effective offense simply by outclassing them in the trenches.
Attacking Iowa State's inverted Tampa 2
Iowa State is playing solid defense once again this year and they're mixing up some of their designs and bringing more multiplicity in the package. It's hard to get a clean read on what Jon Heacock is dialing up at times because of the three-safety structure and the degree to which they will occasionally put a lot of trust on some athletic young cornerbacks.
On the bright side, Sam Ehlinger is coming off one of his more masterful games, save for the red zone interception where Wildcat cornerback Walter Neil, Jr read the play and picked his pocket. Texas unleashed the full RPO system on the Wildcats and dealt some big shots as a consequence while creating extra space so that when Keaontay Ingram broke tackles, he didn't immediately have safeties wrapping him up.
What we witnessed from Ehlinger was the level of RPO execution that has made Tua Tagovailoa and the Alabama offense so explosive the last few years, perhaps even better than some of Tua's work. The QB has to be excellent both at reading defenses and at quick setting and throwing strikes to execute the sorts of RPOs that Texas threw at Kansas State, but Ehlinger is that.
When you're executing the RPO game this well and defenses can't confuse the QB on what he's seeing because he knows how to extend the play and still get the ball out, eventually they have to make one of two choices. Either they play man coverage to get the extra defender in the box against the run, or they allow the offense to run on honest numbers and two deep safeties. The former would be tough on the Cyclones, particularly if Johnson is good to go. Iowa State could opt for the latter but they may not be as solid at executing that plan as they have been.
Playing with depth and relying on closing and tackling from the safeties has been a hallmark of their inverted Tampa 2 system, but their best middle safety, Greg Eisworth, is battling a shoulder injury. He managed to give it a go for the Oklahoma game but I noticed that they moved him to their field safety position so he's off the ball more and no longer their extra box fitter. The reason became clear on this QB power sweep play by Oklahoma:
After a not particularly violent collision you can see Eisworth limping away from the unfinished tackle in clear pain. Without their top guy able to give it his best, the duty of middle safety goes to Braxton Lewis. The new guy is a 5-foot-11/185 pounder who's considerably less likely than Eisworth to do something like knocking Sam Ehlinger out of the game with a huge hit near the goal line…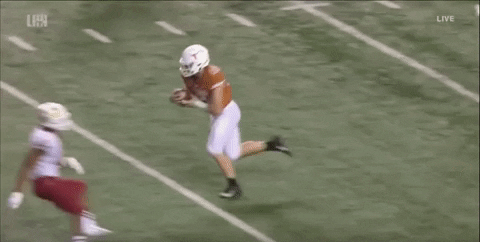 Oklahoma burned them pretty badly with their power-read schemes. Kennedy Brooks turned 15 carries into 132 yards and Jalen Hurts had 19 carries for 80 yards and a pair of goal line TD runs. They've clearly missed having a healthy Eisworth as the box fitter against their last two contests with Oklahoma schools and star DE Jaquan Bailey has also missed virtually the entire year so their non-blitzing pass-rush is also diminished.
Texas can get after this defense if they have a smart plan and empower Ehlinger. Last week they unveiled a new look with their double X, 10 personnel package with Collin Johnson and Malcolm Epps swapping back and forth between playing flex TE and X receiver. It was pretty effective but mostly for allowing them to move Johnson into the slot and less for how teams played Epps. The big man was often treated as though he were a Texas TE, such as when the corner left him to pick off Ehlinger's pass up the seam to Duvernay.
It's not obvious why Texas would elect to sub in Epps to play either the slot or the X though when they have Jake Smith on the roster. Texas gets a lot of advantages out of running 11 personnel in being able to control matchups and utilize a broader playbook, but if they're going to give that up in their spread sets then why not put someone on the field that opponents can never ignore?
For instance…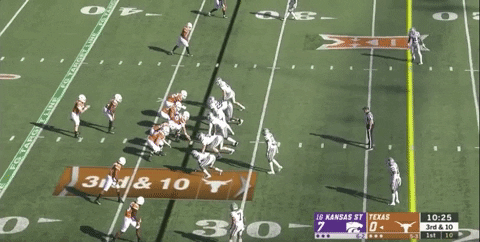 Kansas State was not overly thrown off by this early scheme by Texas to put Johnson into the slot. They didn't just gameplan the Texas playbook but the personnel, so they have bracket coverage on either slot, man coverage on the outside receivers, and five blitzers trying to overload the Longhorn right side after stunting a DL across their faces.
You could hardly gameplan Texas better for 3rd down then to bracket both Duvernay and Johnson with zone eyes on Ehlinger if he scrambles and an overload blitz targeting the right side. Sure enough, they get a sack here and had Ehlinger fooled. But how does this play go if they're using those brackets on Duvernay and Smith while Johnson is running down the field 1-on-1 vs a corner? Probably more like this:
Johnson is honestly most effective at the X, because so many modern blitz designs leave the corners in 1-on-1s outside and if you know you can always beat a 1-on-1 with your X then you force blitzes that have to shade a safety to him and potentially leave a slot in space.
You can't gameplan the Texas passing game if they have Brennan Eagles, Jake Smith, Collin Johnson, and Devin Duvernay on the field at the same time. The best you can do is send in the passing downs package and hope Texas' doesn't have enough in their 10 personnel run game to grind you into dust.
As it happens, Texas is entering this final stretch with a healthy looking Ehlinger and Ingram. With a Big 12 title on the line, it's time for Herman and his staff to push their chips in and play uber-spread from here on out knowing that Ehlinger may get 15-20 carries in each of these next two games with the season on the line. If they play that way and the junior QB is ready to carry a heavier workload in back to back weeks, they could find themselves in position to get back to the Big 12 title game through sheer firepower.