We've reached the "Todd Orlando's playground" portion of the 2018 football schedule. The upcoming slate goes at Oklahoma State, West Virginia, at Texas Tech, Iowa State, at Kansas. All of these teams are built from the Air Raid save for Iowa State and they all want to throw the ball down the field first and foremost, circling back to the running game only after you've given them favorable box numbers.
The dime package was designed to frustrate teams like this and Texas' version of it is starting to come along quite nicely this year for reasons we'll explore in this article. There are a few problems, like the fact that the dime leaves no room for the B-backer position, which happens to be where one of Texas' better defenders (Jeffrey McCulloch) plays.
They can still make room for him at B-backer when these teams bring a TE or FB on the field to try and run the ball, or they can stay in dime and still probably squash most of those looks. They can also rep him at mac LB, but his film from Maryland suggests he's probably the same sort of hesitant and laterally limited player as Anthony Wheeler only with less experience.
The good news is that, as Scipio Tex noted in his Baylor write-up, Texas can stop the run and rush the passer plenty well when his substitute B.J. Foster is in the game.
Texas' best linebacker?
Texas' best calls against Baylor were the ones in which B.J. Foster came on a blitz: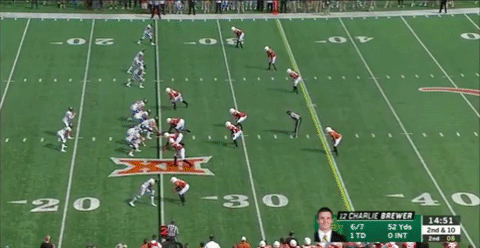 This was one of a few different calls they had to produce that outcome and one of a few different blitzes that would drop Hager to the field side as a mac LB while bringing Foster from the boundary. The violence and lack of restraint that Foster plays with, along with his obvious explosiveness and hips, make him a better blitzer than any of Texas' linebackers. It's entirely common to see him win across a lineman's face like he does here.
Foster scored a sack on one of these blitzes and Texas' final three calls of the game all sent him: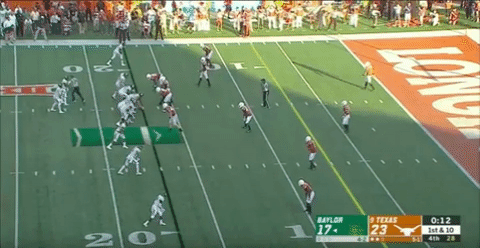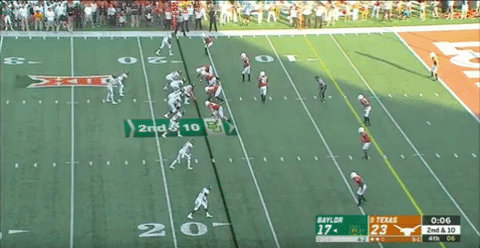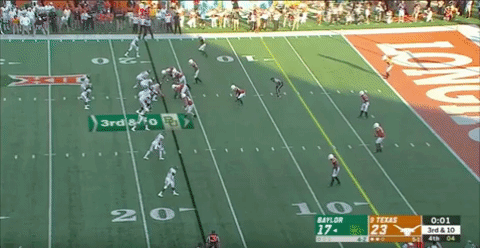 This was an extra nasty blitz, showing the Gary Johnson pressure before firing Foster in between him and Charles Omenihu, often resulting in him being picked up by some hapless RB. In the first clip the LG and RB pick him up but Omenihu toasts the isolated LT. In the second clip the RB is looking to help the LT, the LG doesn't pick him up, and he gets a free run at Charlie Brewer and blows up the play. In the final play he wins past the guard but the RB picks him up, but again Omenihu has been isolated on the LT and makes a final herculean effort to chase down beleaguered Brewer and force another ineffective pass.
Breckyn Hager is dropping into coverage every time.
Essentially the pace of the game meant that Texas was trapped in that call unless they wanted to try and signal something different in or call a timeout, but Todd Orlando obviously thought "nah, I'm good here. Two of my best pass-rushers are coming for that kid's blind side."
Between B.J. Foster and Caden Sterns on the back end Texas has something approximating the legendary Michael Huff and Michael Griffin combo of 2005…potentially even better.
My current best guess is that Foster ends up playing as the boundary safety next year with Sterns sliding into Brandon Jones' role but then Texas heavily involving the dime package and dropping Foster down into the joker. He's a hybrid weapon that is a load in the box for OL to try and keep track of both in the run game or in pass protection. Here he is inflicting a TFL against the Bear run game: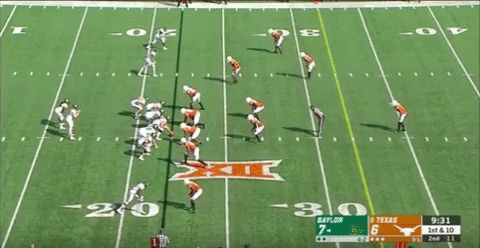 He's offering what Jason Hall brought to the table at the end of 2017 when he took over the joker position but at an even higher level and as a true freshman. That's a 6-6, 250 pound TE he's beating inside to the ball there. It's sad to see McCulloch on the bench so much, but Foster is actually a better B-backer than the Shark, especially against the teams remaining on the schedule.
A salute to Breckyn Hager
Texas inside alignments and movement heavy schemes up front haven't stopped Charles Omenihu from totalling eight tackles for loss and six sacks on the year, and more is likely coming as Texas gets into the Raid Bro portion of the schedule.
But the normally stat-stuffing Hager has "just" 14 tackles, four tackles for loss, and a single sack on the year. That's led to a lot of "is there something off with Hager?" questions by fans and commentators. There is not, Hager has been a highly disruptive force this season similar to what Poona Ford did last year when he finished the year with "just" eight tackles for loss and 1.5 sacks to show for a full season of blowing up plays.
First there's his normal 4i-technique role, which is a thankless job that consists of standing up tackles and cancelling out B-gaps. You can see Hager executing that assignment here while fellow senior P.J. Locke also blasts inside to spill the ball outside to Brandon Jones (who then commits a facemask penalty).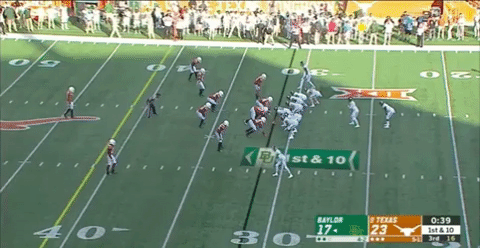 Here's Hager starting on the edge but pinching inside to spill the ball to Gary Johnson coming off the edge after him: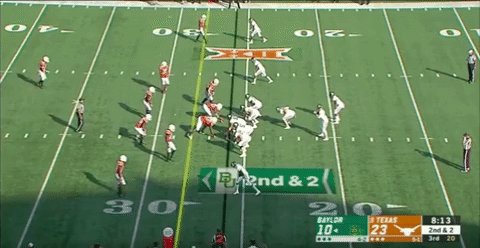 Gary Johnson is at nine tackles for loss and two sacks this year, often on plays where he's running something down that was blown up by Chris Nelson, Omenihu, or Hager. Currently Johnson is on pace to nearly double Malik Jefferson's TFL output from a year ago.
Here's one of the rare occasions where Hager was on an assignment that made him the tip of the spear in the pass rush:
He comes across on a stunt and draws the RB, blows him up and forces Brewer inside where Gary Johnson runs him down. There's been a lot of table setting in Hager's snaps this year. He can cancel out interior gaps, blow up the edge, stunt, and drop into shallow zone coverage and do all at a passable or even high level. Orlando even had him serve as a nose/spy in the two-man rush at times against the Bears.
He's uniquely gifted at cancelling out interior gaps with his physicality and lightning first step so that faster defenders behind him can close, tackle, and take up much of the glory: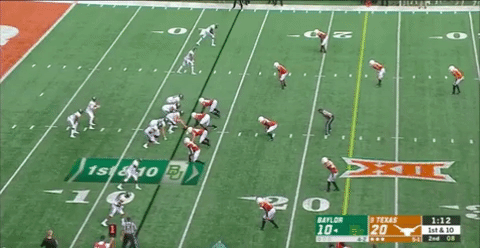 All of this hasn't yielded much glory or statistical production for him yet but it's doing wonders for the defense. Essentially Texas has a DT/DE/LB hybrid in Hager and then a S/LB hybrid in Foster that allow them to get into a ton of different looks, stunts, and blitzes from the same 3-2-6 personnel package.
Texas dime against the Air Raid
Between Brandon Jones, Gary Johnson, B.J. Foster, and P.J. Locke, Texas has a lot of guys that are really good at running and tackling in space. Caden Sterns, Davante Davis, and Kris Boyd are all well above average in this regard as well but they tend to be utilized primarily for their coverage, especially Sterns and Boyd.
What Texas doesn't have this season is precise execution of their pattern-matching schemes to take away routes and passing windows with their underneath coverage. It's a good bet that the main emphasis of the bye week was in nailing down who has who in the standard Air Raid route combos. Texas' dime package is amusingly potent in stuffing the run game because of the strong play of the DL, the physicality from Foster and Locke, and then the range and tackling of Jones, Johnson, and the deep defenders.
Texas' ability to stuff Air Raid rushing attacks from the dime package will be immensely valuable in this coming stretch. Here's a glimpse into how they handle the sorts of screens that teams like Texas Tech love to use to lay waste to opponents and supplement their run game: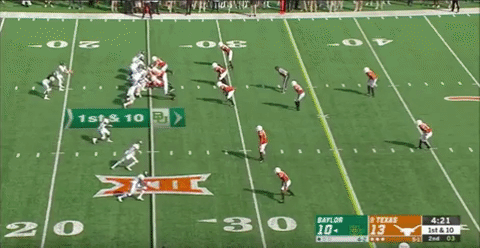 Baylor basically has a "3 on 2" here with two blockers for the receiver on the screen and Texas' extra defenders are the deep safety or the robber, who both have a long ways to go in pursuit. Texas tends to gift teams initial numbers on screens and rely on a combination of their play on blocks and speed of their team pursuit to stop these plays.
That typically goes very well because Davante Davis and Kris Boyd regularly shuck the receivers who try to block them on the edge and stuff these plays for a loss or minimal gain. In this example Baylor picks up two yards on a play you'd expect to get at least five from. This is the equivalent of playing the run with five in the box.
Obviously this set up also keeps numbers around the box so that opponents will struggle to find room for their backs to build up any speed or execute open field moves to pick up yardage. The worry with dime is that you'll give up too much space at the point of attack and your free running DBs may arrive quickly but they'll be facing an advancing blocker, a RB with square pads, or a ballcarrier with a two-way go opened up by the blocking. That doesn't happen against Texas because the DL is so disruptive and the overhang/OLBs (Foster and Locke) don't give up much against blocking.
However, these Raid bros aren't dumb, they'd rather throw than run anyways and they're going to look at film and see stuff like this: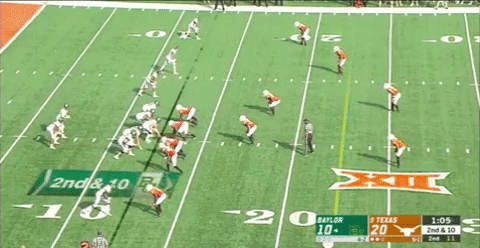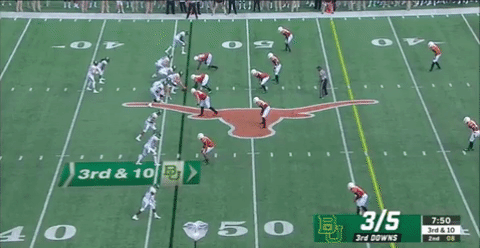 …that makes them think, "let's not take the bait, let's just fling the ball around anyways!"
In example one Baylor is just taking advantage of some of the weak spots in Texas' secondary. They're in a "special" coverage here, which is a trips coverage that locks up the CB on the outside receiver in man coverage and then plays "3 over 2" with the nickel, strong safety, and mac LB over the two slot receivers. In that coverage Locke is responsible for the outside slot receiver on a vertical route, hence the absurd cushion, which then creates easy space to find room inside against the similarly limited Anthony Wheeler.
Texas was much more effective when they'd drop Hager into Wheeler's spot and get pressure from the opposite edge from Omenihu and Foster. Not because Hager is a better coverage dropper than Wheeler (although he's not worse) but because of how effective that pressure was.
The second example is simply Texas defenders not understanding who has which route and then giving up a really easy window to throw a dig to Denzel Mims coming across the field at speed. Obviously that sort of route combination was very costly for the Longhorns in that game and both Johnson and Foster clearly struggled with understanding how they were supposed to be matching it.
Everyone will be clamoring for the personnel solution, "replace Locke and Wheeler with…" but that's probably not going to happen and it's not obvious that it'd be helpful given the alternatives. If Gary Johnson was a better candidate for Mac LB they could experiment with something like playing a 3-1-7 and sliding Locke inside to make room for Josh Thompson outside but that could be too high a price to pay in run defense.
What's more likely is that Texas will work to batten down the hatches in their execution of coverage assignments to avoid giving up easy throws when they're bracketing receivers and then unleash a whirl storm of multiplicity and disguise on the QBs coming up on the schedule.
For instance, P.J. Locke may find himself in a bad matchup in Stillwater but if Taylor Cornelius doesn't see it in time or is busy trying to avoid a death blow from Hager then it's not really going to matter. As noted above, it's really easy to bring a lot of exotic looks from this package because of the hybrid skill sets, the plethora of competent DBs on the field, and then also the excellent coverage capabilities of Davis, Boyd, and Sterns.
The rest of the year is going to be defined in large part by how well and how quickly Texas' defensive backfield nails down Orlando's extensive dime package. If they do a B+ job or better and Sam Ehlinger is healthy and ready to go in at least five of the remaining six games, then Texas will be in the Big 12 championship game.