SUBSCRIBE: Get all the best info from Eric Nahlin, Justin Wells, and Joe Cook plus expert breakdowns from Ian Boyd and Paul Wadlington a.k.a Scipio Tex. 
The Big 12 is really happy to see the Red River Rematch. Oklahoma is surely pleased as well since a playoff résumé of "we beat every team we've played this season" looks like a lock to put them in. Texas is happy to be here at this point. They haven't played in too many Big 12 championship games and none this decade unless you count the "ice fog" de-facto title game against Baylor in 2013. The fact that they have to play Kyler Murray again, this time on turf, is more an unfortunate challenge than a real complaint.
One of the big discussions is what exactly to make of round one when Texas had the Sooners in a 45-24 hole before yielding the entire lead in the fourth quarter, only to win on a 40-yard field goal by Cameron Dicker.
Texas fans will tell you that they had Oklahoma completely whipped and the Sooners snuck back in thanks to conservative playcalling and overly cautious play on defense. Oklahoma fans will tell you that the Sooners just finally wore down and worked over a Texas defense that had been begging for a beating. The truth is surely somewhere in the middle and the rest of the season has indicated both that Texas is prone to yielding leads late and also that there are weak spots that can be pummeled with the right offensive tactics.
In either event, it's a new game and the teams are fairly evenly matched to my eyes, it's mostly a matter of which team is able to dictate the tempo and matchups of the game.
Embracing the shootout
Before round one I thought Texas should go ahead and embrace the up-tempo nature that Oklahoma wanted for the game because their own defense was more likely to hold up under the strain, even against the Sooner offense, than the Oklahoma defense. In subsequent weeks, that's been the approach of most Sooner opponents. While Oklahoma has gone undefeated since the game in the Cotton Bowl, three of its last four games have had one possession margins save for their 55-40 victory over Kansas.
Oklahoma has been atrocious on defense and firing Mike Stoops after the Red River Shootout did nothing to help. Ruffin McNeill has tried to rotate through a few of their fronts and coverages while putting greater emphasis on their quarters defenses instead of the single-high man that Stoops preferred. The greater reliance on zone has arguably made things worse, particularly as injuries have led to a youth movement at safety.
The biggest issue that Oklahoma had against West Virginia was how they played the inside receivers. Virtually all of Will Grier's 539 passing yards and four touchdowns came from throwing the ball on the Sooner safeties and nickel backs (when they were in nickel). Things are bad in Norman right now at safety and they had two main lineups they tried to utilize against the Mountaineers.
The first was a base 4-3 defense with Caleb Kelly trotted out there to play over the nickel. This is a pretty bad look for the Sooners and they got into some major trouble with it for all of the reasons you'd expect: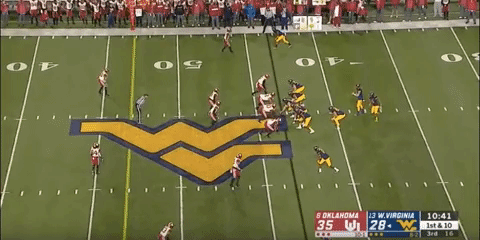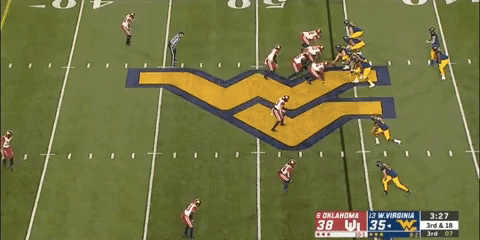 In the latter example the Sooners are in a 3-3-5 look but the problem is consistent. Kelly fails to offer a reroute or much help on the slot (Gary Jennings) and one of their freshman safeties (Bookie Radley-Hiles in clip one, Delarrin Turner-Yell in the next) lost him playing over the top. Their nickel package isn't much better, playing Radley on the slot with DTY over the top while Kelly sits on the bench.
In either package the free safety position on the boundary is played by big thumper Robert Barnes who's out there to land big hits over the middle and be a support in the run game. He's alright so long as he isn't asked to do a lot in coverage and the front doesn't spring a leak that he can't cover up. If the Sam Ehlinger to Collin Johnson connection is forcing Barnes to sit back in cover 2 most of the day then the Sooner run defense really suffers.
The Sooners were better at CB against West Virginia, although it's unclear how much of that was real improvement and how much was the Mountaineers missing Marcus Simms and looking to exploit other areas. The scouting report on their CBs is that they are all small but quick, none of them tackle that well, and they don't know how to find the ball in the air.
Texas is going to move Lil'Jordan Humphrey around like they do every week and there is going to be some yardage to be had as a result. The Sooners simply don't have anyone that plays in the middle of the field who can cover him and their only default will be to try and junk it up on defense like Oklahoma State did in order to at least force Texas to go elsewhere with the ball. At that point they then also risk blowing assignments, particularly against the run game and Texas' increasing arsenal of QB-read plays.
As concerned as the Sooners have to be about matching up on Texas' wideouts, there's also the run game to consider. Oklahoma is not very strong or physical up front and the Longhorns gashed them in round one with tight zone. They ran it 10 times for 87 yards on a front that hadn't just played six weeks in a row and defended 90 plays the week prior in a do or die road game in Morgantown. West Virginia nearly beat Oklahoma on a tight zone play, hadn't it not been called off for Blindside-style excessive blocking by a WR on one of their diminutive CBs: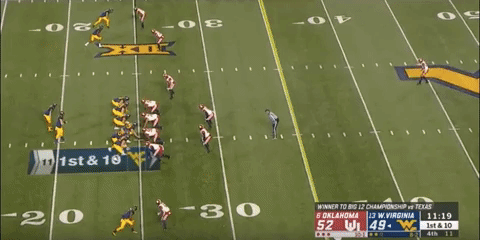 The Mountaineers kept running the play with TE Trevon Wesco running a pop route that had been worth about eight yards per attempt rather than blocking a DE or LB. The game is on the line and the Sooner front is just cooked, they don't have it anymore. They had some rather lame efforts against the Kansas run game as well and frankly neither of those two OL are as physical or talented as this Longhorn front.
There's very little reason to believe that the normal gameplan of attacking the perimeter with screens, RPOs, and play-action on early downs before settling in with the run game later on won't blow Oklahoma's worn down nub of a defense off the field. The difference this time should be that Texas won't ease off the gas in the fourth.
I think we'll see plenty of this call again this week:
They can mix up whether they want to have Johnson and Lil'Jordan Humphrey picking off defenders with blocks (probably) or maybe mixing in routes if the Sooners don't respect those options. This Oklahoma team is not great at defending WR screens and RPOs because they aren't great at defending anything. Texas may want to mix in some shots to the perimeter to ensure that the game regularly includes the beat up Sooner secondary being asked to make tackles on Humphrey and Johnson.
The biggest challenge for the Texas offense in this game is having eyes that are bigger than their stomachs and trying to do too much while assaulting the numerous weak spots in the Sooner defense. The best plan will be to hit the perimeter and deep middle early and rack up points and then to mix in QB run game and keep pouring it on until the clock reads zero. In the event that this is another shootout, Texas will want to be in position to have four-minute style drives in the fourth quarter against whatever is left of the Oklahoma defense.
How the game is won
Even the Kansas version of Ehlinger can probably lead Texas to a 40-point game against the Oklahoma defense just by gritting his teeth and running it 20x. What really matters is whether or not the Texas defense can force some stops or turnovers to prevent OU from hitting the 50s.
If you've observed the mindset coming out of Norman this week it's unquestionably that of confidence in their offense to dominate the game. Despite barely eeking out wins against error-riddled efforts from Oklahoma State and West Virginia, the Sooners are very confident that Kyler Murray and their offense will win the day against Texas, whom they quite reasonably regard as being in the WVU/OSU class of teams in terms of quality.
After watching a good deal of Oklahoma this year I've settled on the rather lame conclusion that defending their offense mostly comes down to stopping the run. Kyler Murray brings a wildly different dimension to passing downs than Jason White, Sam Bradford, or Baker Mayfield but ultimately this is just another high-paced Sooner offense that has a dozen creative ways to kill you in the passing game off the threat of their runs. Also like most Oklahoma teams, the real stars are up front along the OL where they go:
Bobby Evans: 6-4, 301. RS Junior
Ben Powers: 6-4, 313. Senior
Creed Humphrey: 6-5, 325. Sophomore
Dru Samia: 6-5, 303. Senior
Cody Ford: 6-4, 338. RS Junior
All of them have tackle size and athleticism, or something close to it, and their run game is quietly a "find and seal" style rather than a "get low and drive" mash unit. Once they lock onto guys in space it's over, because they're all big and athletic, but they aren't much for drive blocking. In his presser the other day Tom Herman noted that they're mostly running inside zone and GT counter but they have also made heavy usage out of the tackle-lead play that the Longhorns have run a few times this year: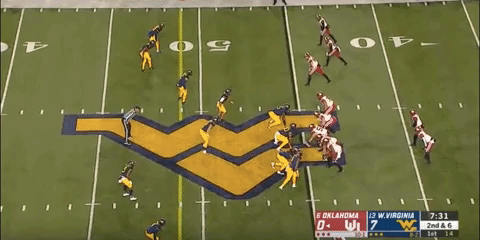 It's basically like a counter run off the inside zone play. This particular incident of it is instructive for "how not to play Kyler Murray." When he's on the perimeter in the run game or standing back with lots of space in the pass game, he's probably the best player in the country. The Mountaineers' LB David Long fails to set the edge, which is admittedly hard against Murray, and that's that. Touchdown.
Here's Texas defending that play in round one: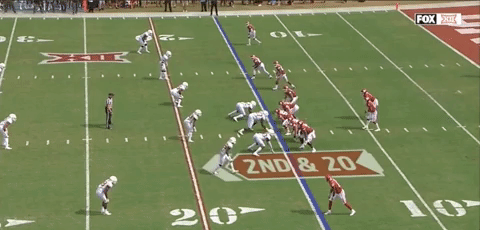 B.J. Foster got turned around some but he's in position still to force the ball inside where the Sooner OL has to maintain blocks on Texas' defensive front and Murray has to risk that baseball money running between the tackles. Charles Omenihu gets a paw on him and "ol' boy" goes down quickly and compliantly.
Similarly, on this tight zone lead run for Murray against the Mountaineers: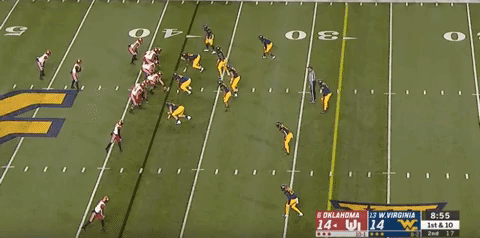 Kyler Murray isn't much for ball security, he tends to hold it away from his body and even here going between the tackles he only has one arm on the ball and that's not enough to secure it against a good hit. After removing sack yardage, Murray had eight carries for 115 yards against Texas in round one and the 'Horns should probably count on his carries reaching into the double digits just as the Sooners have to be prepared for more Ehlinger in this contest. However, if you leverage Murray to help in the alley he's not actually that dangerous. If you allow him to break contain and get two-way goes? He's your worst nightmare.
There are similar truths to be seen in the passing game. With clear pre-snap reads, hours in the pocket, or pitch and catch designs drawn up by Lincoln Riley, Murray has an impressive arm strength and accuracy. Muddy his read and bad things happen to Oklahoma: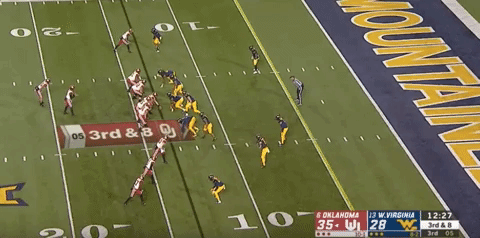 With a rusher in his face and a late dropping safety he didn't see aligned in the middle before the snap? Errors occur. He had a pick and a fumble against both West Virginia and Texas, two picks against Texas Tech that looked much like the one above, and a pick against Kansas. If you can get him out of his comfort zone he becomes a panicky, first-year QB with a knack for bad ball security. The challenge is getting such a dominant athlete out of his comfort zone when he's supported by a fantastic OL, blazing fast skill talent, and one of the best offensive minds in the business.
In round one Texas aimed to do that with the dime package and their five leading tacklers in order were Brandon Jones (9), Caden Sterns (7), B.J. Foster (6), P.J. Locke (6), and Davante Davis (5). Jeffrey McCulloch and Joseph Ossai have both played good football since then but the priority for Texas has to be containment on Murray. If those guys can contain Murray effectively and their presence means the OU run game is throttled, that's a good call. Spying the Sooner QB will play into this game and hopefully Gary Johnson has learned some lessons about how to stay on Murray, but containment on the edges and team speed on the field is the better route.
However, Texas has a real opportunity to utilize Foster in this game because OU's TE isn't a great blocker and their OTs stay in two-point stances and don't fire off the ball that hard on the edge. If Foster can show well against the run then he lends a wider variety of disguises that Todd Orlando can use to keep Murray from knowing when Marquise Brown is facing man coverage or where the pressure and safeties will be after the snap.
Oklahoma has one of the fastest teams the Big 12 has ever seen and an ultra-athletic and experienced offensive line that has thrived in opening up creases for their speed to operate in. No one in the Big 12 has really handled that combination well and have ended up getting gashed so badly on defense that they haven't been able to benefit from the weaknesses of the Sooner defense.
Texas has an advantage no one else in the Big 12 can claim in their ability to field a DL with the athleticism to get under the pads of this dreaded OL, hard-hitting athletes in the defensive backfield that can cover ground and limit angles and space, and finally an overall team identity that is oriented around winning games between the hash marks. If you can force the Sooner offense to play between the hash marks, they get uncomfortable and error prone.
To realize that strategy, first they need a big showing from Charles Omenihu and the DL. Historically, Texas has shown well in this game on defense because their DL have been trouble for the Sooner lines and been harder for them to handle than their normal B12 fare. With the Longhorns looking to encourage Murray into the alley, there will be opportunities for them to swipe at the ball and try to generate needed turnovers. If your plan is to use speed to keep the ball between the hash marks then you'd better be ready to dominate when the Sooners meet you there. Malcolm Roach's emergence as a 4i in relief and a passing downs nose tackle looms enormously in this game.
Next up is the nickel, P.J. Locke. Not only will he have to crash the edge regularly in the run game but he'll also be at the point of attack on OU's perimeter screens and will need to balance the necessary aggression of those two jobs with staying on top of routes by Marquise Brown and Grant Calcaterra at times.
Finally, you can be sure that Texas will lean on Kris Boyd and Davante Davis again in this game. Whether that means single high coverages that get Brandon Jones in the box or double sky coverages where both safeties are playing flat-footed at the snap and potentially yielding a throw on an isolated corner over the top in order to get a nine-man front against the run and scramble game. In either event, Texas wants Jones, Sterns, Locke, and Foster to be aggressively patrolling the middle of the field and that means Davis and Boyd will be on islands outside a fair amount.
Tom Herman has had success in his first three encounters with the Lincoln Riley Oklahoma Sooners (starting at Houston in 2016) with a 2-1 overall record and 3-0 mark against the spread (always as the underdog). He's had that success because he's understood those dynamics and fielded physical teams that could impose a different tone on the game than the Sooners preferred. With one more, the Herman Texas Longhorns would officially be the ascendant team in the Big 12 due to their identity as a physical team with unrealized upside in future seasons as they become increasingly talented.