Want daily Texas Longhorns content on the latest team and recruiting information from Eric Nahlin, Justin Wells, Ian Boyd, Scipio Tex, and Joe Cook? Sign up HERE today!
Chris Klieman seems to have unlocked the secret to winning with Bill Snyder's roster. The Wildcats have a savvy QB who can run, a solid collection of blocking "ancillaries" at TE and FB, an OL comprised entirely of seniors, and just enough athleticism to take advantage of all these infrastructure pieces. Essentially it looks like one of Snyder's nine-win teams from the last decade.
Defensively they've also rounded into form as a typical Snyder-ball team. The Wildcats managed to slow down Oklahoma by playing Tampa 2 (the traditional kind, not the Iowa State style) and utilizing great DL play to control the point of attack and enable a bend don't break approach on the back end.
It'll be interesting to see how the Wildcats look in 2020. The entire OL and ¾ of the DL will be graduating and Klieman's strategy for those positions is Rhule-esque in that he's snatching up athletes with frames built for upside, which is a longer process. The North Dakota State dynasty was built with dominant OL and DL play developed by plugging in upperclassman every year that had come in 40 pounds or so "underweight" for their positions and been molded into monsters over multiple years of S&C and training. That should be replicable in Manhattan but I don't know if Snyder left enough raw materials to keep things going in 2020.
In the meantime, the Wildcats are surging with three consecutive Big 12 wins over TCU, Oklahoma, and Kansas, all of whom gave Texas hell over the same stretch. Texas had a bye week to get healthy and prepare themselves for this one, which should be useful in avoiding a regression back into being the 2010s Longhorns that regularly were out coached and outplayed by Wildcat teams like this.
The Wildcat strategy
The Wildcats are a tricky team to gameplan on offense. They have a pretty big playbook that I like to refer to as "a million ways to run power," and they'll cycle through multiple formations and personnel groups to ultimately run that basic scheme.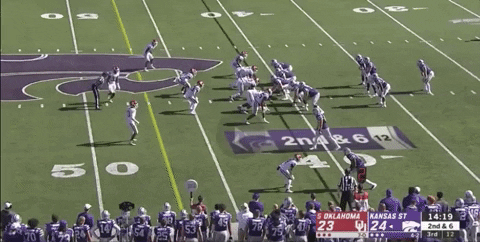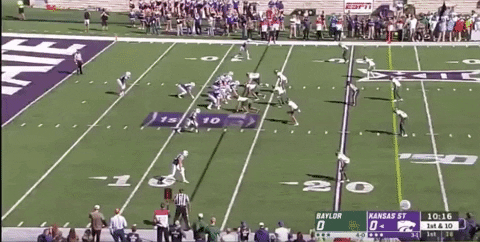 Ultimately it's all window dressing for the main goal, which is to kick out the DE, double team the DT, and lead downhill with a pulling guard with an eye for the A-gap. If you stop that dimension without going insane on the perimeter or elsewhere (such as in play-action where they regularly slip TEs past defenders) then you stop the main thrust of the K-State offense.
For this game, it's likely that the dressing will actually be the main course. K-State may not have the personnel to make consistent gains trying to run through Keondre Coburn and friends between the tackles. The Wildcats aren't good enough on the OL and they are beat up at RB. However they may be able to cause problems on the perimeter where Texas has struggled with containment, option assignments, and getting numbers to the ball. After a 2018 season where the Wildcats struggled to field good blocking at FB and TE, Klieman has already restored their physical, workmanlike identity with multiple players at those positions that have shown well this season.
On defense the Wildcats have been a multiple 4-2-5 defense most of the year that mixes conservative quarters coverages with some cover 3 and then turns to Tampa 2 as their favorite third down call. They blitz some but their multiplicity is geared more towards allowing them to play multiple base defenses to keep the ball in front of them without tipping their hands about who will be where so that opponents can attack them. DC Scottie Hazelton wants opposing OCs to signal in the wrong plays, QBs to miss open receivers and have to hold the ball for an extra moment when the post-snap look is different than expected, and then fall prey to a DL that has 10 of the team's 14 sacks.
It's worked out pretty well. The Wildcats are close to Oklahoma and TCU in the 30s per defensive SP+ (behind inverted Tampa 2 teams Baylor and Iowa State), and are executing the bend don't break strategy at a pretty high level. Their victory over Oklahoma was largely a result of the Sooners settling for four field goals. That and the way they took apart the Sooners' aggressive 5-1 defensive fronts by overloading the perimeter.
Kansas State wants to win this game by playing conservative defense that forces long, sustained drives while running those exact sorts of drives and holding the ball on offense. If neither team is able to score quickly it becomes a different game with everything hinging on turnovers, efficiency in the red zone, and field position.
I've argued that playing Tampa 2 style defenses with dime personnel is a potential pathway for teams in the Big 12 that want to play ball control and win games in the trenches for a few years now. Texas could have been executing a similar strategy for the last two years but Todd Orlando had some other (worse) ideas for how to get stops. Currently K-State is ninth in the country in time of possession, holding the ball for an average of 34:18 per game. Texas is 39th with an average TOP of 31:05.
The Wildcats are doing a pretty solid job of executing the strategy. Like the Snyder teams, these Wildcats have been using special teams and the QB run game (Skylar Thompson has 10 rushing touchdowns) to ensure that they are the most efficient team in a battle of field position and limited possessions.
Escaping the Wildcat den
Tom Herman and his staff have a couple of options available for trying to deal with Kansas State's overall strategy. One is to embrace a low possession contest and hope to out-execute the Wildcats with superior offense and special teams.
Kansas State is a little beat up right now. Lead running back James Gilbert missed the Kansas game with injury and one of his two main back-ups (Jordon Brown) was also limited and got just two touches. Probably one or both will be ready for Texas but they aren't at 100% here. Additionally, top cornerback A.J. Parker is out this week after getting hurt in the Kansas game.
Then there's Texas' run blitzing, which is more likely to be useful in this game than most any other on the schedule. One of Orlando's favorite tricks is a well timed, ILB blitz that creates a sort of four-man front while spilling the ball:
This blitz with Juwan Mitchell on the field slowed Pooka Williams in the second half against Kansas and had a big payoff last year against Iowa State and Georgia. It's just hard to get a consistent inside run game going against the Longhorns if the mac or rover is timing their blitz well enough to create some inside penetration while also creating a 1-on-1 matchup for Coburn with the DEs fanning out to the edges.
If that blitz is timed well it causes problems for a scheme where the Wildcats want to pull a guard and it muddies the water in terms of properly sizing up the DL so as to effectively knock Coburn out of the way. This week Texas will potentially have Brandon Jones as the free safety playing down in position to clean up anything that comes out of that mess, assuming Foster is healthy to play the nickel.
It's actually a good plan and right up the alley of Orlando's own competencies and the strengths of this roster.
Texas' has had a unique advantage over the rest of the Big 12 the last two years because Sam Ehlinger has made it feasible for them to expect to be more efficient in a lower possession contest than most anyone else in the league. His knack for picking up short-yardage, picking up third downs, avoiding turnovers, and finishing in the red zone has been brutal for opponents to counter. This is a major factor in why SP+ has been dismayed by how many games Texas has won where the final stats said they had a statistically low probability of emerging victorious. In those games, the Longhorns were efficient when it mattered and aggressive Big 12 offenses piled up enough production playing from behind to not only backdoor cover but also to threaten the final outcome and blur the box score.
Had the Longhorns been embracing a style of defense more similar to what these Wildcats are doing, aiming to play bend don't break and forcing opponents to execute their way down the field against athletes like Caden Sterns, Brandon Jones, Gary Johnson, Charles Omenihu, etc then Ehlinger's proficiency in low possession games would have really been crushing to opponents.
Even still, it's feasible that Texas could embrace a slow paced (yet fast moving, in terms of clock) game and come out ahead this week against the Wildcats because of their own knack for being the more physical and explosive team in a head to head battle such as this one. It wouldn't be remotely shocking if this is the option that Herman opted to take.
The other option would be to play like a proper Big 12 team, ignore Kansas State's preferences for a methodical game, and use tempo on offense to up the number of possessions they get. There's only so much an opposing team can do if you want to go fast and get lots of possessions, take the games from earlier this decade between Bill Snyder and Art Briles.
Briles' lightning tempo and aggressive approach demolished Snyder-ball on an annual basis, the only exception was in 2011 when the Bears had three turnovers. The Wildcats regularly held the ball longer, especially in the home games, but the Bears still had nearly as many possessions and plays as they liked or needed in order to hang at least 30 points every year on the Wildcats.
So while it's easy to see Herman being eager to beat the Wildcats on their own terms, what if Texas instead operated with lightning quick tempo while breaking tendency? What if they ran something like this on their opening series?
The Wildcats will have studied what everyone else did against Texas and will be eager to jump on their tendencies. So what if they lined up in their normal 2×2 set with their top targets in the boundary only to run a double move for the Z receiver (ideally Eagles)? Kansas State's staff is smart enough to know that Texas is likely to have something different to throw at them but they don't know what it will be, and they aren't in great shape to match up with Texas' three top receivers with Parker out.
Hazelton and Klieman have two ways to play this. If they think that Herman can be goaded into a slower slugfest then they could mix in some late safety rotations from conservative coverage looks to try and get numbers to the box to stop Texas' run game when they inevitably try to run tight zone 15 times. But if they are convinced, before the game or by Texas' play-calling early in the contest, that they need to play their safeties over the top against both the X and Z receivers then Texas absolutely can call vanilla run concepts and try to be the more efficient team at pounding the ball inside.
Additionally, whatever packages Texas has for Jordan Whittington should see the light of day on Saturday. If they are, in effect, the same obvious 21 personnel looks that Texas tried to catch Oklahoma with in the Red River Shootout, that will be more than a little disappointing.
What would be greatly beneficial for Texas would be an empty package for passing downs that includes Whittington on the field rather than Keaontay Ingram or Roschon Johnson. The Levels concept that has been effective with Duvernay could be all the more effective if run to Whittington working opposite Duvernay:
This particular call could be iffy on 3rd-and-9, although perhaps still a good way to go about it against Tampa 2 since it asks the defense to tackle Whittington moving at speed in space, it'd be a nightmare in any other situation. There are options for Texas to approach this game by aiming to turn it into an up and down shootout with spread passing sets operated at tempo. While Texas could conceivably beat up Kansas State in a low scoring slugfest, Kansas State does not have similar flexibility to match Texas in a high scoring shootout.
Texas is heading into a difficult home stretch now and they can't afford to play with a governor but need to carefully gameplan each remaining opponent. If they can blow away the Wildcats with their offensive firepower early they can force K-State away from the methodical ground and pound approach the visiting team prefers and potentially run up the margins. Then they can build some confidence heading into the brutal pair of road trips coming down the pipe.