Get FREE Inside Texas premium access until Red River Shootout week! Receive the best team and recruiting information, detailed schematic breakdowns, the latest information from the Forty Acres, and so much more! Sign up HERE today!
Trailing 20-7 with over 14 minutes left in the third, Texas needed to take advantage of the stop its defense provided to begin the second half.
They answered the call with a 19-play, 86-yard scoring march that never went backward over 7:17.
No. 1 – 1st and 10 – Texas 14 – Keaontay Ingram five-yard rush, fumble, Ingram fumble recovery.
Almost a disastrous start for Texas as Jacob Phillips forces a fumble on Ingram's first carry of the second half. Luckily for Ingram, the ball bounced right to him and plays 2-19 could occur. Texas runs a counter play and does a good job to create a hole for Ingram despite Derek Kerstetter getting away with a hold. A fortunate bounce continues the drive, but Ingram heads to the sideline.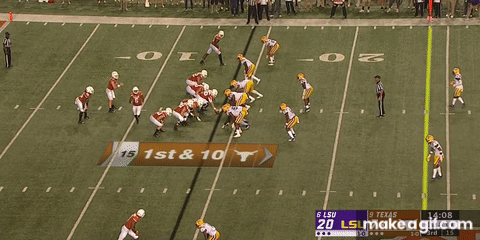 No. 2 – 2nd and 5 – Texas 19 – Roschon Johnson seven-yard rush
Roschon Johnson replaces Ingram and bursts through the hole to move the chains against a seven-man box. He gets up and immediately displays emotion and competitive fire.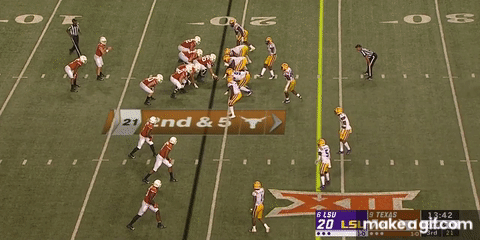 No. 3 – 1st and 10 – Texas 26 – R. Johnson three-yard rush
Texas' alignment with four receivers to one side of the field tilts the LSU secondary so that Derek Stingley is the single high defender. The safety rolls down at the snap to defend the screen, making the read a give to R. Johnson. The edge defender stays home and the counter opens up a small hole. R. Johnson is wrapped up but works to fall forward for additional yardage.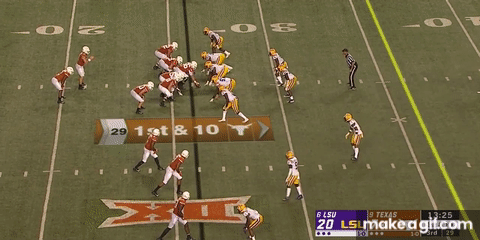 No. 4 – 2nd and 7 – Texas 29 – Sam Ehlinger screen pass to R. Johnson, seven yards
Well-executed swing pass where Cade Brewer and Devin Duvernay make good blocks on their defenders. Kristian Fulton is able to disengage from Brennan Eagles and is able to tackle R. Johnson. If Eagles successfully blocks Fulton, the only man preventing R. Johnson from a big gain is Grant Delpit. Still, a first down and the LSU offense remains off the field.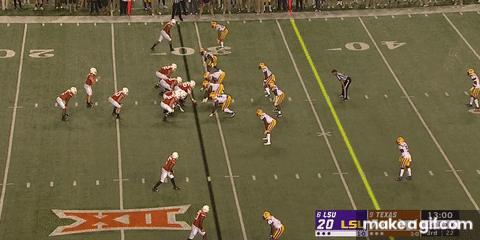 No. 5 – 1st and 10 – Texas 36 – Ehlinger incomplete pass, intended for Collin Johnson
Ehlinger throws a solid ball up for grabs but Fulton stays physical while on Collin Johnson's hip. His play gives him a better chance than C. Johnson to get the ball.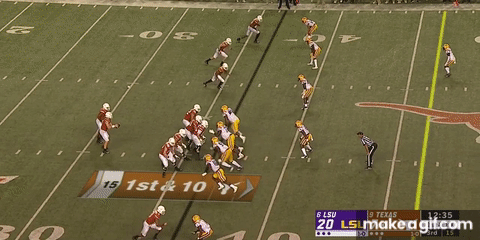 No. 6 – 2nd and 10 – Texas 36 – Ehlinger pass complete to Duvernay, 11 yards
The two ILBs drop down and create a window for Ehlinger to find Duvernay over the middle. In addition, the Texas OL does a great job executing the RPO blocking without going far enough downfield to potentially draw a flag.
First down. The LSU defense has been on the field for two minutes of game time.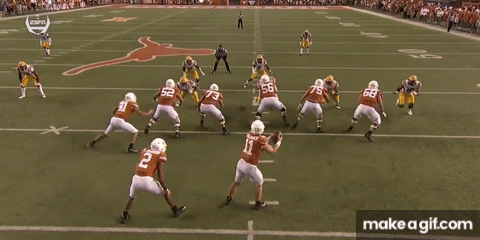 No. 7 – 1st and 10 – Texas 47 – Ehlinger pass complete to Leitao, seven yards
Prior to the beginning of this play, C. Johnson tells Reese Leitao he's in the wrong spot and should be on the other side of the line. Ehlinger rolls left and tries to find Duvernay but comes under pressure. He steps away from it and finds an open Leitao on the far side of the field. There was more green available for Leitao, but he stumbled and his first career catch ended without a Tiger receiving credit for the tackle.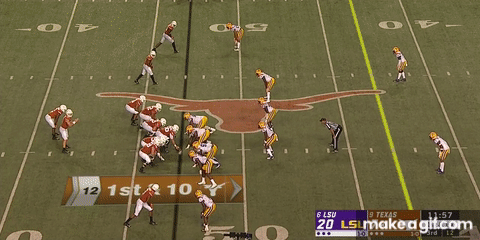 No. 8 – 2nd and 3 – LSU 46 – R. Johnson four-yard rush
R. Johnson can't find a hole between the tackles and bounces outside. Michael Divinity is there to try to corral him, but R. Johnson is able to dive forward past him for a first down.
Texas has driven 40 yards over three minutes of game time. The first stoppage for a LSU player down occurs at the 11:16 mark.
"Caught a cramp, perhaps," ESPN play-by-play commentator Reece Davis said. "Or a signal. One of the two."
No. 9 – 1st and 10 – LSU 42 – Ehlinger incomplete pass, intended for C. Johnson
Texas gets C. Johnson one on one with Stingley, and Stingley earns the PBU. C. Johnson tried to create some cushion at the top of his route, but it wasn't enough to prevent the five-star freshman from being able to close the window and play the ball. Two plays in one drive where the LSU corner outplayed C. Johnson for a one on one ball.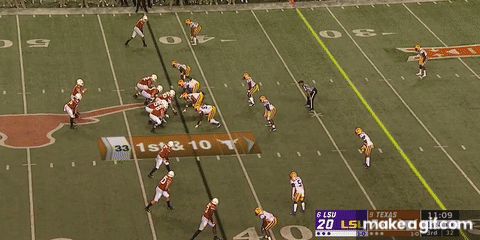 No. 10 – 2nd and 10 – LSU 42 – Ehlinger pass complete to Duvernay, four yards
Delpit is unblocked on a bubble screen and flies to Duvernay intent on forcing a TFL. Duvernay bounces off the future NFL star and gains four when most would have lost four.
This backed up what Texas coaches and players have said throughout the early part of the season about how difficult Duvernay is to tackle. Those yards made Texas' first third down of the drive third and manageable instead of third and a mile.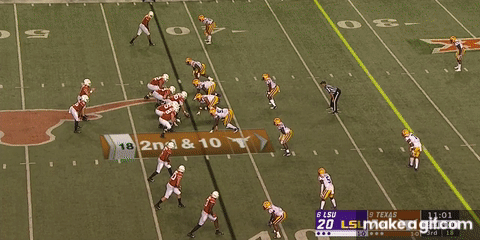 No. 11 – 3rd and 6 – LSU 38 – Ehlinger pass complete to Ingram, eight yards
Texas needed seven points instead of three on this drive, and this third down conversion was a huge reason why it ended with seven. From an empty set, Ingram runs across the field and finds a hole in coverage past the sticks but in front of the defender.
Kerstetter goes one-on-one and wins against LSU's best pass-rusher.
Divinity stays down on the field following the play, but if you watch his right arm, it gets trapped beneath Ingram on their way down. He did return later in the series but would once again require training staff attention.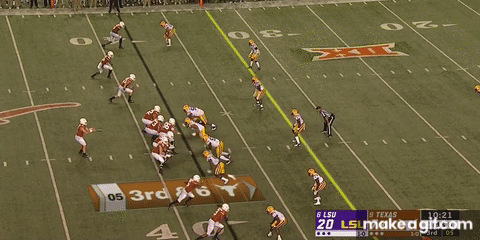 No. 12 – 1st and 10 – LSU 30 – Ehlinger incomplete pass, intended for Duvernay
LSU brings five, and Ehlinger recognizes pre-snap. Texas seems to have accounted for everyone, including double-teaming K'Lavon Chaisson with the tight end and back. However, Kerstetter assists Zach Shackelford on the NT and lets the weak side DE get in Ehlinger's face.
It's not clear if there was a miscommunication between Ehlinger and Duvernay (or Eagles) or if he was just throwing the ball away, but the ball falls to the ground near the front pylon.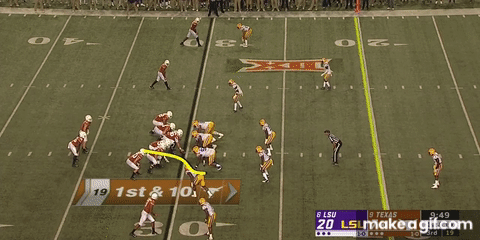 No. 13 – 2nd and 10 – LSU 30 – Ingram one-yard rush
Parker Braun pulls and puts a good lick on Chaisson. Brewer pulls and decides to take the spot Junior Angilau left. If he pulls, follows Braun, and engages with Jacob Phillips, Ingram might have more room to run on this play.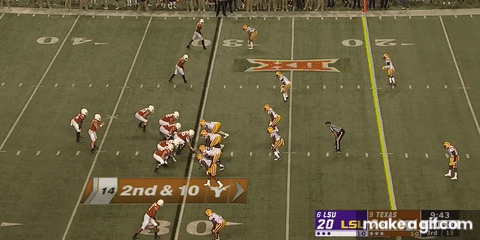 No. 14 – 3rd and 9 – LSU 29 – Ehlinger pass complete to C. Johnson, 12 yards
Ehlinger's first read appears to be Duvernay, who is covered by Kary Vincent. His second read is C. Johnson, who creates space on the sideline past the chains for an important first down conversion.
Chaisson dives at Ehlinger's legs just after the pass is released, but no flags were thrown. Where one could have been thrown on him, it also appeared as if Braun and Shackelford might have gotten away with a high-low engagement.
Regardless, C. Johnson gets inside the red zone and the drive continues.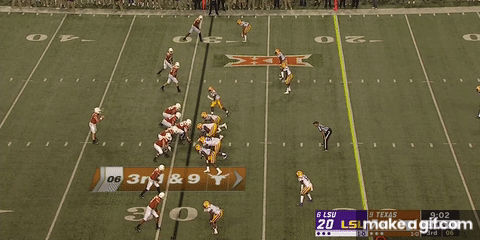 No. 15 – 1st and 10 – LSU 17 – Ehlinger pass complete to Duvernay, four yards
If Delpit didn't know too much about Duvernay before, he's familiar with him now.
Vincent tries to get in the throwing lane, but Ehlinger puts a little more air under the throw. That allows Duvernay to haul it in but gives Delpit more time to get there. Duvernay makes the play by running through Delpit, and even stays on his feet when Divinity forces him out of bounds before going to the turf.
Divinity returns to the ground and calls for the training staff. The Texas drive is 15 plays covering 73 yards in 5:37 at this juncture.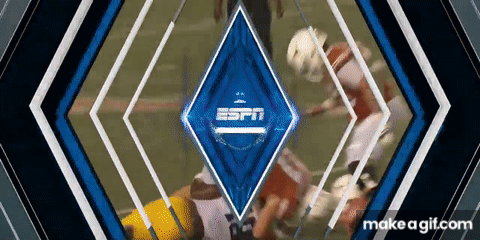 No. 16 – 2nd and 6 – LSU 13 – Ehlinger five-yard rush
Texas runs a draw to get Ehlinger moving on his feet close to the goal line.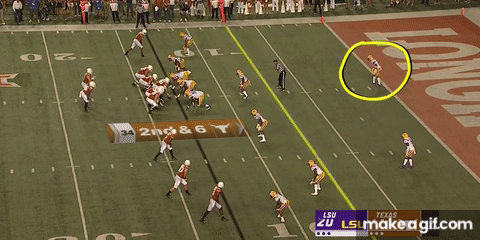 No. 17 – 3rd and 1 – LSU 8 – Ingram five-yard rush
Sam Cosmi and Braun work the two-man sled against the WDE. Brewer gets to the second level to an ILB. The unblocked OLB creates a give read for Ehlinger, and Ingram has enough burst to get by the OLB before he's brought down.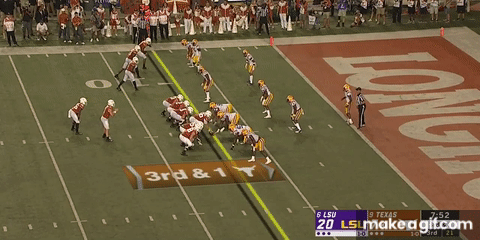 No. 18 – 1st and Goal – LSU 3 – Ingram one-yard rush
The LSU front does a good job of disrupting the Texas OL, and Ingram can only manage a yard. Another LSU player stays on the turf after this play, but it's not due to cramps. Braun plants the WDE on the G in 'LONGHORNS' in the south end zone.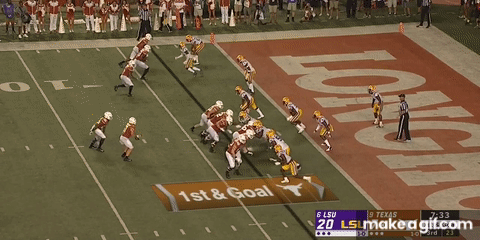 No. 19 – 2nd and Goal – LSU 2 – Ehlinger two-yard rush, touchdown
Cosmi and Braun create a small lane for Ehlinger, and Ehlinger drives through past the goal line for a score.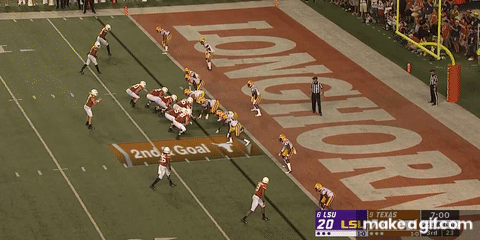 Texas was better at every position on this drive save cornerback, and Texas still got one against the Tigers' dynamic duo. It also was a huge response to keep the game at a one-score margin when it was on the precipice of a three-score game.