Get three weeks of FREE Inside Texas premium access with our Post-Oklahoma special! Receive the best understanding of what's happening on the field and behind the scenes as the Longhorns enter the second half of the season. Sign up HERE and select the Post-OU 2020 special!
The game-tying touchdown pass from Sam Ehlinger to Keaontay Ingram may have looked familiar.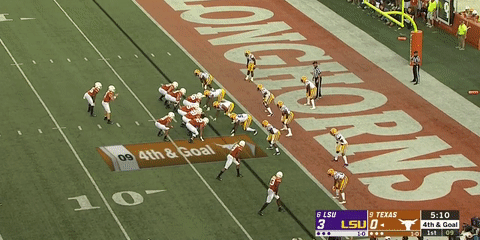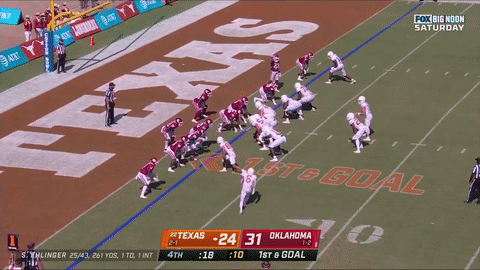 Important game? Goal line situation? Must score scenario? It is not the exact same play, but for an offensive coordinator in Mike Yurcich who espoused the "players, formations, plays" mantra prior to the season, it is notable he chose the running back who fumbled at the goal line late versus TCU and on his first carry against Oklahoma.
Circumstances certainly played a role in Ingram playing in a pivotal situation. Sophomore Roschon Johnson and freshman Bijan Robinson took over the running workload in the first half following Ingram's fumble.
"We felt it best for him to regain his composure," Herman said Monday. "He was sick about it. Felt it was important for him to take a step back a little bit. Then obviously, when Roschon got re-injured, we inserted Keaontay back in the game."
Ingram did not receive many carries upon his return to action, as Texas was passing in order to get back into the game. He also split snaps with Robinson late during the Longhorns' comeback efforts.
When Texas needed a touchdown in order to continue the game, they did not look to Ehlinger, or Joshua Moore, or even Jordan Whittington.
They knew Oklahoma was not thinking about a pass to the running back who had fumbled and not seen many snaps since the first drive. Texas placed its trust in Ingram, and he rewarded the coaches and his teammates
"To call his number there at the end shows all the trust that we have in him," Ehlinger said after the loss to Oklahoma. "He's a great player."
Herman called Johnson "day-to-day" on Monday with a reaggravation of a sprain in his AC joint. That leaves Ingram, Robinson, and transfer Gabriel Watson (who has not logged a carry in 2020) as Texas' main options at running back.
The Longhorns will need a composed Ingram for the rest of the season. Ehlinger, currently leading the team in every major rushing category, cannot continue to be the only source of yards on the ground if the Longhorns want to be successful on offense.
There are other issues; the offensive line and its struggles play a role in the problems with the run game. But Texas will need the version of Ingram that is breaking tackles and scoring touchdowns in order to win going forward, not the version that fumbled in crucial situations in back-to-back games.
Choosing Ingram as the player for the game-tying touchdown could be confidence boost necessary for the former.