In a season with nine wins, there are moments from each match up that make the largest impact game to game. It could be a score, it could be a stop, or it could be one simple thing to set up another play late in the game.
With remarkable wide receiver play this year, many of the top plays from each game involved Lil'Jordan Humphrey or Collin Johnson hauling in touchdowns over and around defenders. However, some other plays made it into my list of top plays from each game.
MARYLAND – Sam Ehlinger to Devin Duvernay 39-yard first quarter touchdown pass
Needing a response to an early score by the Terrapins, Brandon Jones' long punt return past midfield put Texas in position to do that.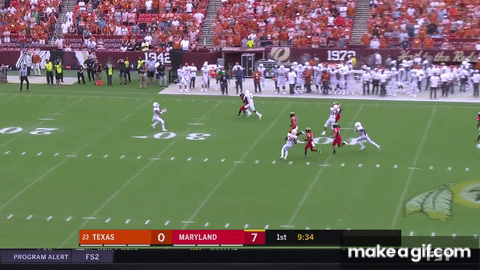 That punt return set the Longhorns up to take an immediate shot at the end zone to try and tie the game. Texas lined up in a set with four receivers to the field, including Andrew Beck covered up on the line. Because of the formation, Duvernay received a favorable matchup and made his defender pay with a deep route. Ehlinger slightly overthrew his target, but Duvernay's leaping grab put Texas back in the first game of the year.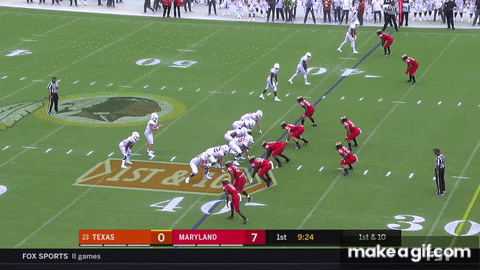 TULSA – Keaontay Ingram 29-yard first quarter touchdown run
In a game without very many highlights for the Longhorns, Keaontay Ingram proved his opening game performance was no beginner's luck. Ingram took the ball and bounced off several defenders on his way to the end zone. The run showed his quickness, vision, and burst that Texas fans should expect to see more of in the coming years.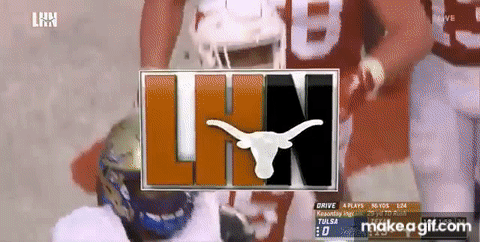 USC – Brandon Jones TFL on USC's 4th and goal from the UT 1
A long pass from JT Daniels to Amon-Ra St. Brown gave the USC Trojans a chance to take a one-score lead midway through the second quarter. The Trojans worked their way forward from the nine before going under center from the one yard-line. Texas had a chance to make it 3rd and 6 due to a penalty, but Tom Herman and Todd Orlando conversed and decided to decline to set up 4th and 1.
Daniels pitched the ball, and the Texas defense stayed home on the perimeter. When the USC running back tried to bounce it to the pylon, Jones was able to meet him behind the line of scrimmage for an important stop.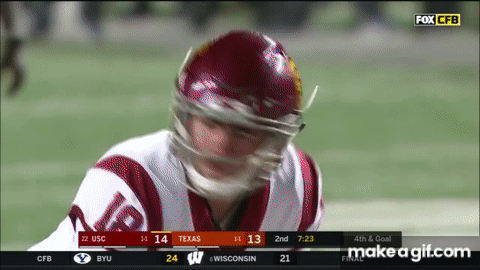 Another important play from that game was the one that broke it open, Caden Sterns' block on USC's 50-yard field goal attempt that Anthony Wheeler recovered and returned for the score.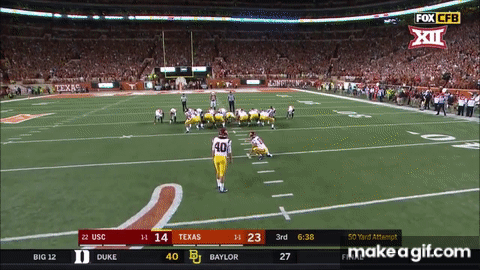 TCU – Caden Sterns' second quarter interception
In a game that remained tight into the second quarter, the next big play made by either TCU or Texas would swing momentum in the game. Texas held a 10-6 advantage over a TCU team the Longhorns had struggled against for years, and looked to take advantage of the momentum from a win against USC.
TCU tried to make that next big play when Shawn Robinson lateraled to KaVontae Turpin. Turpin looked downfield for Jalen Reagor, but Sterns ranged from his hash to the sideline on a trick play to make the interception.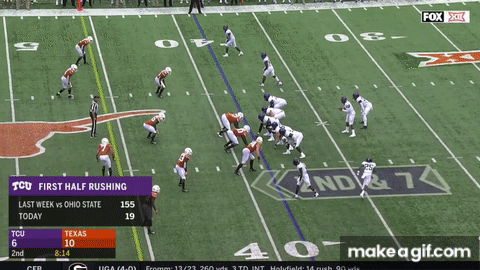 The final drive for Texas was cathartic for fans that have watched the Longhorns stumble offensively against TCU for the better part of this decade. Texas was able to swing the ball wide to receivers in space, and followed that up with a healthy inside run game.
When Sam Ehlinger dropped back to pass, he found Lil'Jordan Humphrey, who cleared defenders on his way to the end zone.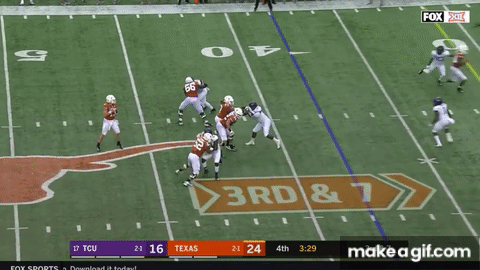 It wasn't the most important play of the game, but it was big for a Texas team who hadn't beaten a conference rival in five years.
KANSAS STATE – D'Shawn Jamison first quarter 90-yard punt return touchdown
In a game that was offensively challenged, Texas found a way to steal a score for the first one of the game against Kansas State.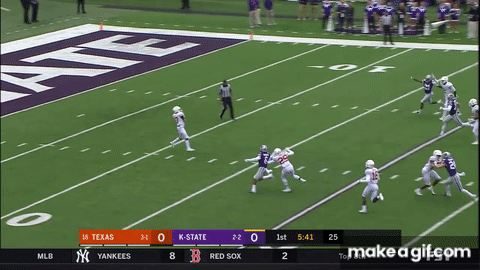 This was one of two Texas touchdowns in Manhattan, and it was a group effort. Jamison makes several defenders miss on his 90-yard return, but key blocks from Jerrod Heard, Anthony Cook, and Chris Brown open up Jamison's path to the end zone.
OKLAHOMA – Sam Ehlinger to Tre Watson second quarter 28-yard touchdown pass
There's the play that won it…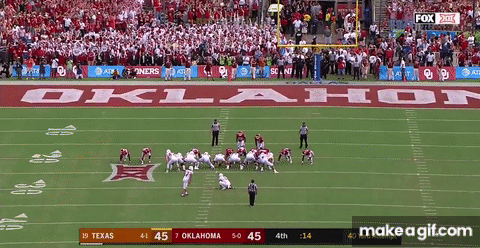 And the play that was an embodiment of the Texas culture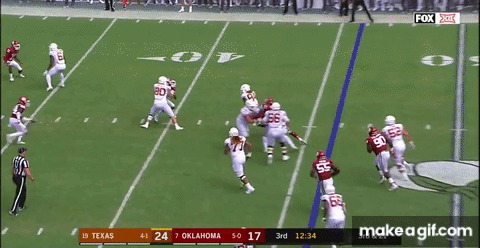 But to me, the top play from that game was when Ehlinger found Watson on a wheel route for the score.
In the drive leading up to the touchdown pass, Texas attacked the perimeter and forced Oklahoma's defense to have to tackle Texas' larger receivers. The Longhorns were faced with a long third down conversion opportunity and Ehlinger targeted Andrew Beck. Beck made a diving play, setting up a short fourth down the Longhorns would convert.
A couple plays later, Texas has a DE/LB hybrid in Mark Jackson matched up on a running back, and Texas takes advantage of the mismatch for six.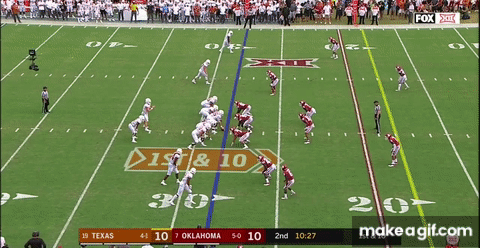 BAYLOR – Shane Buechele to Collin Johnson second quarter 44-yard touchdown pass
This was a portion of the schedule where normally just one side of the football played at a high enough level to make a highlight play.
In Texas' win over Baylor, Shane Buechele was called on after Sam Ehlinger was forced to leave the game with a shoulder injury.
In the second quarter and trailing the Bears, Texas' offense needed a spark for its backup quarterback. Buechele threw a deep ball to Johnson in one-on-one coverage, who put his hands up to try and catch a ball very much in the sun. He came down with it and made his way to the end zone for one of Texas' handful of touchdowns.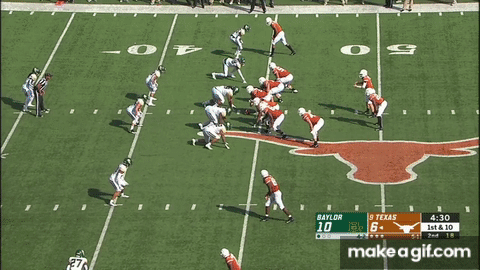 OKLAHOMA STATE – Sam Ehlinger to Keaontay Ingram third quarter 22-yard touchdown pass
At this point in the year and especially after the Baylor game, it became obvious how important Ehlinger was to the Texas offense. He had taken care of the ball, and the team had struggled in his absence.
After a week's rest and recovery, Ehlinger was back in action for a nighttime game in Stillwater. Texas' defense struggled for much of the game, but Ehlinger and the offense kept the deficit from growing too large.
Ehlinger's pass to Ingram in the third was set up by a hard play fake, a roll out, and a great throw to Ingram. Ingram had to make a play over a defender in decent position, and did for six. Texas trusted its young backfield duo to make an important score and was rewarded.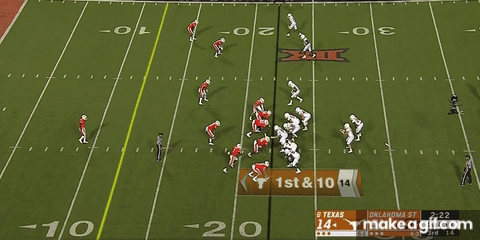 WEST VIRGINIA – Sam Ehlinger to Devin Duvernay fourth quarter 48-yard touchdown pass
The highlight from this game was sure to be one from the offense's exploits, as the defense did little to hold its end of the bargain.
Driving with a chance to go ahead, Texas got Duvernay in one-on-one coverage on the outside. He perfectly executed a hitch-and-go, leaving the corner in the dust. Duvernay tracked down Ehlinger's pass and found the end zone, giving the Longhorns a late one-possession lead.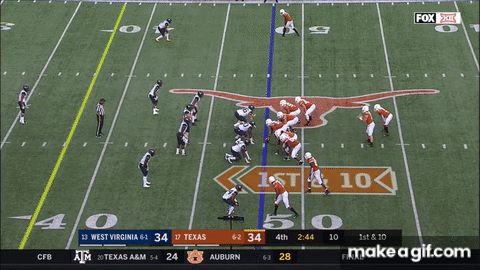 TEXAS TECH – Sam Ehlinger to Lil'Jordan Humphrey fourth quarter 29-yard touchdown pass
"It's the LJ corner now," Humphrey said postgame of his reception in an end zone that has caused a lot of grief for Texas fans.
It came in light of another fourth quarter to forget by the defense, allowing a Texas Tech team using its backup quarterback back into the game. The Red Raiders tied the game late, and Texas was given one last opportunity to win the game.
Without Collin Johnson, Humphrey had to take over at the XWR position, and that's exactly what he did. Humphrey remained a consistent chain mover even a little further from the ball, and as always could be relied on to get the ball in the air when it mattered most.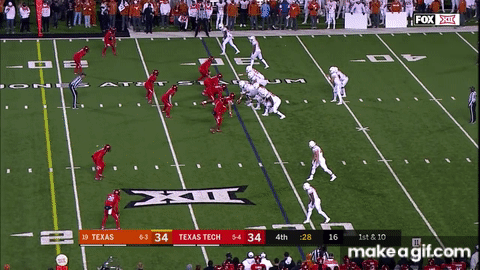 IOWA STATE – Shane Buechele to Lil'Jordan Humphrey third quarter 27-yard touchdown pass
After Buechele was called into duty again due to an Ehlinger injury, Texas was looking for a way to get ahead in order to solidify its Big 12 Championship berth. On a third-and-short, Texas went to its most reliable target in one-on-one coverage.
Iowa State is so worried about the tight end running up the seam that it looks over the fact that the best player on the field is in one-on-one coverage. Humphrey eludes the defender and finds the end zone for an important score.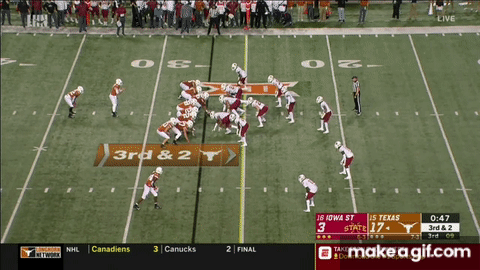 The play that put an end to any Iowa State comeback hopes was one to remember, as it gave a look at Texas' defensive present and future. Joseph Ossai shakes his man for the strip-sack, while Charles Omenihu scoops the ball to ice the game.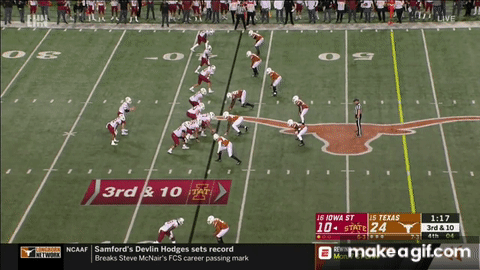 KANSAS – Sam Ehlinger to Collin Johnson first quarter 26-yard touchdown pass
Another game challenged offensively, Texas scored on its first drive to set the tone for the game.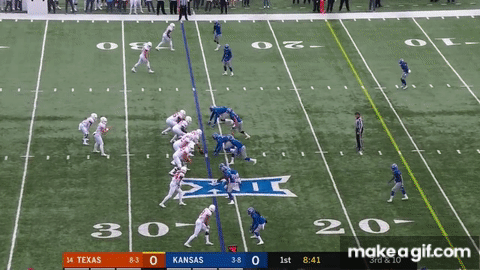 BIG 12 CHAMPIONSHIP – Sam Ehlinger to Collin Johnson third quarter 27-yard touchdown pass
Johnson's third quarter touchdown reception was part of his record-breaking performance in the conference championship. He broke a 12 year-old record for yards in the Big 12 Championship game, and was one of the best performers from a struggling Texas offense.
At the time of his touchdown reception, Texas desperately needed a score to keep up with the Oklahoma offense. Failure, and the Sooners would have the ball with a chance to go up 20. Texas cut the lead to six when Ehlinger found Johnson one-on-one against an Oklahoma corner who had failed to stop him up to that point.