Want daily Texas Longhorns content on the latest team and recruiting information from Eric Nahlin, Justin Wells, Ian Boyd, Scipio Tex, and Joe Cook? Sign up HERE today!
Top plays of the 2019 season – Part I
There were a limited number of important highlight plays throughout the second half of the Longhorns' season, with three of Texas' five losses occurring in this stretch.
Kansas
Devin Duvernay had one of the best seasons a Longhorn wide receiver has ever produced. In the midst of a back-and-forth affair with the Kansas Jayhawks, Sam Ehlinger found his No. 1 target for a dynamic play.
Ehlinger had to make the play has he took a big hit, but he was able to step into his throw from the pocket and hit Duvernay in stride.
It was a much needed touchdown, as the Jayhawks continued to trade scores with the Longhorns in the fourth quarter. This was part of a 50-point performance capped by a Cameron Dicker game-winning field goal.
Struggles with Kansas were alarming, considering Texas' talent level and the information available to the Texas staff about new Kansas OC Brent Dearmon's offense.
Luckily for Texas, consistent play from Duvernay helped them avoid a disastrous loss to Les Miles in Austin.
TCU
In a game filled with struggles for former defensive coordinator Todd Orlando's unit, the highlight of the day for Texas in Fort Worth came, as it often did in 2019, via Duvernay.
This was an important touchdown as the scoreboard shows. Texas needed to respond to the previous TCU touchdown drive when Max Duggan found a wide-open Pro Wells for the Frogs' first score.
Texas moved into TCU territory via a Collin Johnson reception and a facemask penalty against the Horned Frogs.
Following a two yard Keaontay Ingram rush, Texas lined up for its second down play.
The coverage Gary Patterson called had Duvernay lined up one-on-one with Trevon Moehrig. Duvernay simply needed to sidestep Moehrig to find open space. Once he did that, there was no way safety Vernon Scott could reach Duvernay from his coverage responsibility. In the end, Ehlinger hit Duvernay in stride, and Duvernay added another score to his impressive 2019 season.
Kansas State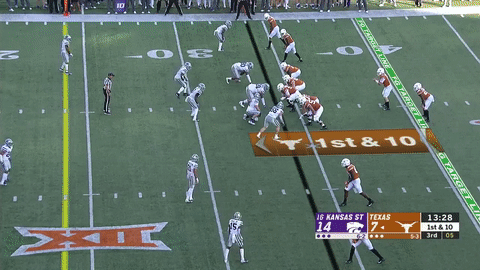 Kansas State easily scored touchdowns on its first two drives in Austin. They would only score 10 more points in the rest of the game.
Eventually, Texas' offense got itself together after a first half with just one score. Collin Johnson brought in a 21-yard pass from Ehlinger in the second quarter to make the score 14-7.
Texas began with the ball in the second half and zoomed down the field. Ingram started the scoring drive with a 20-yard rush. Then, Ehlinger found Johnson and Brennan Eagles to move 21 yards further down the field.
On the KSU 34, Texas lined up in one of its typical 2×2 sets. Ehlinger began running to his left with Ingram outside of him as a pitch option. A K-State defender sprinted straight at Ehlinger, forcing him to get rid of the ball before sustaining a big hit.
He pitched the ball to Ingram, and Ingram sprinted through the open field thanks to blocks from Eagles and Malcolm Epps.
KSU linebacker and Austin native Da'Quan Patton made Ingram earn the score, as he sprinted from his middle linebacker spot and chased down the sophomore rusher. However, Ingram had built up too much momentum and found the end zone, with the call confirmed by instant replay moments later.
The game-winning field goal from Cameron Dicker was left off because it was simply a field goal. Though important, Ingram's impressive tying score as part of a big day helped Texas achieve its 6th win.
Iowa State
Options for this game's selection were limited. It was either going to be the play above, or Ehlinger's runaround touchdown pass to Epps that gave Texas a one point lead.
It eventually lost that lead via late penalties and a last-second field goal, but that doesn't take away from the effort Ehlinger made in order to put Texas in that position. That said, the work he did with Eagles on the Longhorns' drive prior to halftime put Texas in a spot that made a comeback possible.
Prior to the scoring drive, Texas' drive chart read punt, punt, punt, punt, turnover on downs, and punt. Texas simply couldn't move the ball on the Cyclones defense.
Then, Ehlinger found Eagles twice and Duvernay twice in order to move the ball to the Cyclone 14 in under a minute.
With one on one coverage, Eagles found room at the near pylon. Ehlinger rolled to the short side of the field, avoiding a rushing defensive lineman, and fired a ball Eagles stretched out to catch. He kept one foot down in the end zone, and hauled it in.
He was spotted short, but a review overturned the call and gave Texas a much, much needed six points prior to the half. Though Texas was dominated for most of the game on offense, they had a chance throughout because of impressive plays like the ones made by Ehlinger and Eagles.
Baylor
There were maybe a handful of highlights for the Longhorns in Waco, so this choice was easy.
After a dismal first half on offense, Texas looked to hand the ball off to Ingram and get to halftime thankful that despite being soundly outplayed they only trailed by one score.
Then, Baylor's defense left a gap unmanned and the middle of the field open. Ingram burst up the middle of the field and tried to get as far as he could before the half ended.
There was a downside to Texas getting into range for Cameron Dicker. Ingram injured his ankle on the play and was held out for the remainder of the game. However, his effort on a 68-yard run was pivotal in helping Texas enter halftime with at least three points on the board.
Texas Tech
The final game of the season allowed for Texas to achieve a third consecutive winning season, and enter bowl season with at least some momentum from a conference win.
It almost was another stumble in a season full of them. Texas Tech took a 14-0 lead, just as K-State had several games prior. Texas woke up with two scores, but Texas Tech re-took the lead, and it appeared like the Longhorns and Red Raiders were about to get into a track meet.
Duvernay and track meets go hand-in-hand, and just as he had so often during the season, he ran past the lone defender assigned to stopping No. 6. Ehlinger found him despite some rainy conditions, and Duvernay waltzed into the end zone.
This was part of a 199-yard game by Duvernay, an impressive performance in his last home game. It was his seventh 100-yard game of the year, part of 1294-yard season that will likely result in his name being called at the 2020 NFL Draft.