Want daily Texas Longhorns content on the latest team and recruiting information from Eric Nahlin, Justin Wells, Ian Boyd, Scipio Tex, and Joe Cook? Sign up HERE today!
Michigan had lofty expectations for its 2019 offense. Shea Patterson, despite his faults, was a senior quarterback that Jim Harbaugh himself had chosen. Harbaugh brought in Josh Gattis to coordinate the offense to help the Wolverines escape the shadow of the elite Ohio State Buckeye program.
Gattis also served as wide receivers coach, and he had a solid group to work with in Ronnie Bell, Nico Collins, Donovan Peoples-Jones, and Tarik Black. The entire group received customary pre-season praise, but Gattis singled out Black during camp for how he was playing after two seasons of limited participation due to injury.
"Tarik has really kind of turned it up even more than what he did in spring," Gattis told MLive.com. "I think the spring was kind of an adjustment, learning-wise. Kind of picked up everything. Now he's buying into the coaching, buying into the details. He's playing at a very high level."
Ultimately, Michigan finished 9-3 with inconsistent offensive performances against the better defenses on its schedule. No Wolverine receiver had more than 800 yards on the year, and just two eclipsed 500 yards. Black, who played in 12 games and started five, was not one of those two.
Black entered the NCAA Transfer Portal in December and chose Texas in late April. He was a welcome addition to Texas' 2020 recruiting class that lacked star power at receiver after Tom Herman's decision to move on from wide receiver coaches Drew Mehringer and Corby Meekins. He's also a welcome addition to a roster that graduated three receivers, including two NFL Draft picks in Devin Duvernay and Collin Johnson.
Transfers don't choose their destination without strong evidence they'll either start or receive a lot of playing time. Black will be the most senior receiver on the roster in 2020, but what will his two years to play one season (per UT officials) at Texas look like?
Before looking forward, an understanding of his Michigan career is necessary. Black was the top composite player from Connecticut and one of 19 four-stars in Michigan's 2017 class.
Black began his career at Michigan in the starting lineup and even hauled in a touchdown during his first three games in 2017, but suffered a foot injury versus Air Force that required surgery. Next season, Black suffered yet another foot injury, this time in preseason camp. He would return later in the year, appearing in six games and starting one.
The combination of Gattis' arrival, Patterson's experience, and the talent of Wolverine receiver corps had Michigan expecting big things in 2019. Black's first game back hinted that he would be the receiving threat Michigan expected him to be.
The touchdown was turf monster-assisted, but he showed aptitude in other parts of Gattis' offense versus Middle Tennessee State.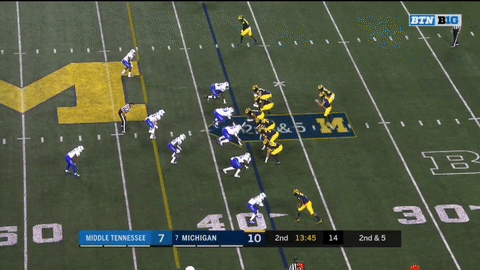 Those clips include two of Black's four catches versus the Blue Raiders. The four receptions from that game was his season high. In addition, the first clip was his only touchdown reception of 2019.
After the season-opener, Black was a limited part of Michigan's offense.
Available career highlight videos on YouTube are limited as well, with only 1:49 of highlight material and two plays from the 2019 season.
That season is in the past, and Black traded maize and blue for burnt orange and white. He joins Andre Coleman's receiver room and will play in an offense coordinated by Mike Yurcich with less rigidity regarding receiver roles. He was utilized in several spots at Michigan, but spent most of his time on the outside. That should continue at Texas.
As stated earlier, transfers choose destinations with clear paths toward playing time. At outside receiver, Black's 2020 competition is comprised of junior Brennan Eagles, redshirt freshman Marcus Washington, and freshman Troy Omeire. Texas has receivers like sophomores Josh Moore, Al'vonte Woodard, and Jake Smith who could possibly play a variety of roles, but Herman has showed a propensity for having his outside receivers match the physical profiles of Black, Washington, and Eagles.
Eagles is the No. 1 choice for the primary outside receiver spot that typically aligns on the boundary. That means Black and Washington should compete for the receiver position typically aligned toward the field.
The first requirement for success for Black is to remain healthy. It has been the biggest issue preventing him from producing at the college level.
The second requirement is sure hands. The nature of the route tree and alignment given to the field receiver often has him furthest from the quarterback. If Sam Ehlinger is to make a throw to Black, he needs to be able to reward the senior quarterback. Duvernay's 2018 didn't show the same production as his 2019, but evidence of his reliability was present throughout the season.
Michigan's offensive coordinator at the time of Black's signing, Tim Drevno, complimented Black's hands. That compliment remains on Black's official profile on Michigan's website.
"Tarik runs really good routes, has really good hands, and plucks the ball out of the air well, so he has great ball skills, too," Drevno said. "He really fights to grab the ball out of the air and we just love his competitiveness."
Herman has a good track record with graduate transfers in his time at Texas. In desperate need of a tight end, he brought in Kendall Moore from Syracuse in 2017. For 2018, Tre Watson served as a reliable presence in the backfield for a 10-win season. Clearing the way for him was Calvin Anderson, who started every game at left tackle. 2019 saw Parker Braun join Texas. He started every game.
These transfers fall in between the category of "spot fillers" and difference makers, which is understandable. If there was rampant success at the transfer's previous program, they most likely wouldn't have left.
In Black's case, it appears he is just ready for a new start after several injury plagued seasons. Competition with a promising freshman in Washington should spur him to prove that the only thing slowing him down in Ann Arbor was injury and average Power 5 quarterback play.
With Ehlinger delivering him the football, he'll have every chance to prove himself. He has to stay healthy, and he has to be reliable. If he does that, both Black and Texas can reach what they set out to achieve from their late April union.
Does that mean he'll post 1000 yards and 10 touchdowns? Not even Texas' most prolific slot receivers in Duvernay and Lil'Jordan Humphrey have done that. Duvernay's 2018 could hint at what Black is capable of.
Of course, there is a benefit toward having the other two receivers on the field that season accumulate 2161 yards, but there's potential Texas has that this year with Eagles and one of Smith or Jordan Whittington in the slot.
Black leaves the lofty expectations of Harbaugh's sixth season at Michigan for the lofty expectations of Herman's fourth season at Texas. His path to the field is a little clearer in Austin. A path toward reaching his potential is there. He needs to stay on the field in order to even think to traverse it, then be what fans expect an experienced blue-chip receiver with a blue-chip quarterback to be.
Cover photo courtesy of MGoBlog